Floy Krouchi
Long term residency
January 2017 - Abril 2018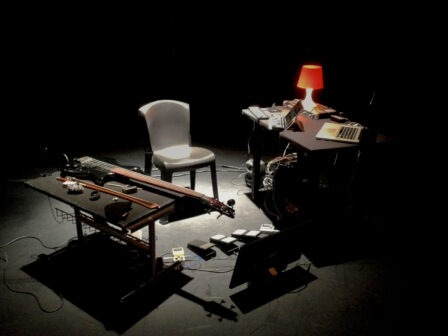 Floy Krouchi ( Paris + Terra incognita ) 1971
Period of residence:
Short term residency: January 2017 – Abril 2017
Long term residency: April 2017 – Abril 2018

Sound artist and electroacoustic composer, Floy Krouchi works with sound in its multiple dimensions : plastic, instrumental, abstract, electronic, multiphonic, radiophonic.
Based on the recording and archiving of real sounds and their transformation, her compositions are sculpting unknown territories , and rely on multiphony to create augmented spaces exploring new codes and analogies . She considers sound as a practice which drives the ability to listen towards invisible dimensions, with alchemic and cathartic properties . In her radio art work , she has developped  a special work process, between documentary, fiction and essay:  based on the recording and archiving of interviews and real sounds and their transformation, she uses the polyphony of voices ( "plurivocity" to refer to Derrida ) as a metaphor of the coexistence and complexity of layers , proposing a kaleidoscopic place -or non place- where the notion of identity and its deconstruction are central  . Such notions as genealogy,  gender,  ethnicity, borders, religion, nations  are often revisited in her work and  radio essays . She also works with  photography, video and multimedia, and conceives transdisciplinary projects where sound remains the central element.
She studied Litterature , earned a master in Cinema and Audiovisual, studied and learnt electroacoustic composition under G.Favotti , jazz with David Patrois in the conservatory in Paris and Indian music under Pandit Hindraj Divekar in Pune, India . She is now teaching and giving workshops and classes on composition and sound design at Beaux Arts du mans, and university of Paris Orsay.
Floy krouchi  has been present in the world of contemporary experimental music since 1994.  She founded the Mafucage (" Monkey cage ")  ensemble in 1994, a collective of  female musicians in experimental music who did a serie of performances on a train from Paris to Pekin and has been active until 2003 with more than 100 performances, and several records. She has been working in India for years with the traditional transexual community on "Sakhiri" a multimedia audio-video performance and installation which toured the subcontinent and Europe . Since then she has been commissioned numerous pieces and performances by Face Council, GRM, La muse en circuit, France Musique, Gmem, France Culture and has been working with collectives and artists such as Meira Asher, Kamilya Jubran, Tejal Shah, Natasha Mendonca, Pom B Bouvier, Nicolas Losson, Fefa Vila , Marc Vincent.
She performed for the last 20 years in Europe , Eastern Europe, India and China, Middle East , and United States. Her work, solo or in collaboration, has been shown at  Palais de Tokyo, Centre Georges Pompidou, Documenta 13 , Kassel , Nuit Blanche, Maison europééenne de la Photographie, Dancem, GRM, IRCAM, Contemporary Art museum of Valencia and San Sebastian, Circulo de Bellas artes Madrid, New Delhi, Spectrum NewYork, Miami , Barrister Gallery in New Orleans, , …She is a recipient of Villa Medicis Hors les murs in 2009. In 2011 her  piece "Couvre-Feux" was granted the Luc ferrari's 9th international radiophonic art prize and premiered in Geneva's contemporary music festival Archipel , broadcasted in Germany, Suitzerland, France, and Canada .  Her piece "Journal Transgenre d'une famille Hijra", produced in 2010 for France Culture's 'Atelier de Creation Radiophonique won the Prix Italia 2011 for innovative  Radio Documentary, and her piece on middle east " Curfews 56″ was recipient of the Phonurgia Nova Prize in 2013.
She plays an augmented bass and electronic solo, " Bass Holograms" produced by Cesare, cncm , and is currently researching on the ideas of expanded instrument and interactive speaker.