Francisca Trobok
International residency
July - September 2020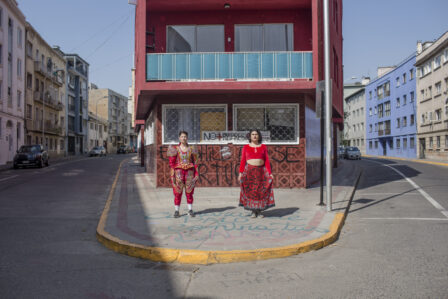 Francisca Trobok. Santiago de Chile, 1983
Francisca Trobok graduated in acting from the Aiep Theatre School (2006), with a Master of Arts in Theatre Direction from the University of Chile (2015). She has developed as an assistant director and theater producer in the artistic and educational field in Chile. She directed two plays with the Rizoma Theatre Company (2015-2018).
Recently she has settled in Barcelona doing the course of Sound and Image from the Inner Mirror/Invisible travels in Massana School, taught by Anahit Simonian, as well as the course Performance Theory, body, disobedience and subversion, organized by the Museum of Contemporary Art of Bogota and taught by Abel Azcona.
Through a multidisciplinary and fragmentary artistic practice, Frank explores the hybridization of the diverse scenic languages, she does not limit himself to a specific discipline. She recognizes experience, the streets, intuition and exploration as essential resources in the evolution of her artistic processes, from there she elaborates discourses linked to the appearance and dissolution of the body as a materiality of mutable resistance, the abolition of the rigidity of the binary system of gender, through a process of biographical experience or self-portrait and the elaboration of fiction and non-fiction narratives, which can be materialized through photoperformance, video-performance, poetry, accumulation of archives and domestic elements, actions or installations, diaries of life, cartography, collages and sounds, everything is constituted in a chimerical fabric possible to embrace. In her latest projects she focuses on the exploration of dissident, divergent and transgressive bodies, mainly in female masculinities. Inspired by her own body and the Machona, a character in the Caporal dance, she experiments with other real and fictional bodies that dislocate and destabilize the norms of heteronormative representation.
Hangar Studio Visit 2020
frank.trobok@gmail.com