Francisco Navarrete Sitja
Long term residency
april 2017 - 2019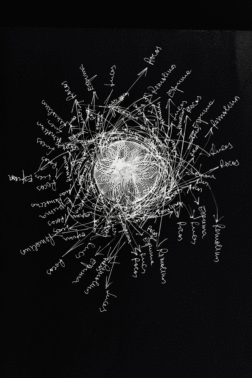 Francisco Navarrete Sitja (1986, Chile)
Bachelor of Arts and Master in Visual Arts from the University of Chile (CL). He is currently awarded with a grant by the Museu d'Art Contemporani de Barcelona (MACBA) to study the Independent Studies Program PEI 2017-18 (ES). He works and lives between Santiago (CL) and Barcelona (ES).
He has participated in artistic residencies in BilbaoArte (ES); Casapoli (CL); Residencia Colbún (CL); Festival de la Imagen (CO); Projecto Norte (CL); FIFV Photography Festival (CL); TSONAMI Sound Art Festival (CL); 2396-Kms – Balmaceda Arte Joven (CL); among others. At present, he will participate in residences at Can Serrat (ES) and Hangar (ES). This, after being selected by both institutions and awarded by the National Council of Culture and Arts (CL).
He has exhibited individually or collectively in contexts such as: LOOP Barcelona (ES); BilbaoArte (ES); Festival de la Imagen (CO); Museo de Arte Contemporáneo (CL); Fundación Telefónica (VE); Casa de las Americas (CU); Athens Video Art Festival (GR); Parque Cultural de Valparaiso (CL); Wunderlich Gallery (AU); Galeria Gabriela Mistral (CL); Centro Cultural de España (CL); Festival PROYECTOR (ES / PT / MX / IT); Biennial de Artes Mediales(CL); Savvy Contemporary (DE); Museo Nacional de Bellas Artes (CL); Factory-Art Gallery (DE); Centro Cultual Matucana 100 (CL); MUDAFEST Festival (PT); Centro Cultural Palacio La Moneda (CL); La Petite Mort Gallery (CA); Biennial de la Imagen en Movimiento (AR); Balmaceda Arte Joven (CL); and Galeria BECH (CL), among others.
The artistic practice of Navarrete reflects on the contemplation, temporality and subjectivity of the image and representation of the territory. Hence-superimposing reality and fiction, the material and immaterial, the local and global- he speculates on certain narratives associated with the construction and performativity of the landscape view; interpellates the symbolic dimension of certain material expressions of certain contexts as enabling new horizons of meaning; and addresses various technical devices as configurators of our way of seeing, understanding and situating in the world.
From a time to this part, Navarrete has acquired great interest by the exploration of field in diverse topographies, approaching thus to local geopolitical problems that intersect the image, technical intervention, nature and society. In this sense, the artist has dedicated himself to producing specific projects based on his in-situ experience and analysis of ephemeral spaces; working in places invisibilized or in a state of transformation due to the dialectical condition between their processes of historical recognition and modulation of certain material manifestations – natural and artificial – of the environment. Navarrete is interested in these contexts, since they allow him to question standardized subjectivities and generate stories of counter-memory – bifurcations – about different dynamics of territory exploitation; making its way towards the vulnerable, drift, chance and other attributes of it. Thus, the artist establishes an affective nexus with the geography that allows him to speculate on the production of visual imaginaries.
On the other hand, Navarrete works with the expressive possibilities that the photographic language and contemporary image allow through its multiple formats, means, techniques, non-traditional modes of movement and formal displacements. In addition, it uses ideograms, blogs, objects, archives, cinematographic appropriations, interviews, sound landscape and video animations, among others. To these means and resources he incorporates operations and methodologies of some scientific disciplines as a way of approaching other models to organize the sensitive or generate relations with the techno-scientific imaginary.
Currently, among the research process that he's developing – explorations from material obtained in artistic residences; nomadic research with which it links narratives between Chile and Spain, and other contexts – one can feel its special interest in accounting for instability in representation, contradicting and connecting events through appropriation exercises of landscape models, juxtaposing imaginaries and stories associated with the effects of technical thinking on territory and look.
www.francisconavarretesitja.com
https://soundcloud.com/francisco-navarrete-sitja
https://vimeo.com/francisconavarretesitja