Giulia Deval
International residency
November - December, 2019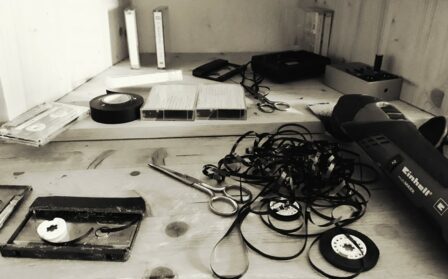 Giulia Deval. Turin, 1993
Graduated from Brera Academy of Fine Arts and the Department of Theatre and Music Studies at the Alma Mater Studiorum University of Bologna.
She works in the field of audio-visual installation and vocal research as singer and mixed media artist. Her interest is mostly focused on lo-fi sounds, tape, hacked analog devices and fiction. At the center of her research is often the elaboration of a fake scenario which becomes the starting point for the conception of a sound work. Voice and speech are at the heart of this game in a hybrid territory between sound experimentation and forms close to narrative and mockumentary.
She took part in the European projects HALF A HOUSE, a format created by the artists Sonia Gómez (ES), Leonardo Delogu (IT), Brogan Davison (UK), Gosie Vervloessem (BE) and Pétur Ármannsson (IS) as a part of N.O.W. (New Open Working process for the performing arts) during Festival Fabbrica Europa (Florence) and ITERATIONS, a collaborative project between Dyne.org (NL), esc medien kunst lab (AT), Hangar (ES) and Constant (BE).
In addition to her individual path she is part of Rica Ricson, a collective formed after the Iterations experience in Hangar with Antonia Manhartsberger, Connie Mendoza, Azahara Ubera, Iris Torruella, Julia Gorostidi and Rosa Llop.
She is also part of Lapsus Lumine, an ensemble founded by Erika Sofia Sollo, Sabrina Oggero Viale and Giulia Deval (vocals) and Stefano Risso (compositions and double bass), which has recently collaborated with Jim Black (drums) and Ernst Reijseger (cello) for Moondog Project, Torino Jazz Festival original production.