Grace Tume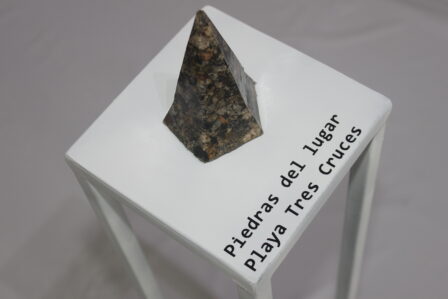 Grace Tume, Lima (Perú) 1989
Period of residency: November- December 2016
International residency program
Most part of Grace's family is from northern Peru. From a town call Cabo Blanco. She  has lived there half her childhood. After finishing school, she decided to study painting with the idea of continuing the only thing she enjoyed at school: drawing and coloring. She completed her university studies at the Pontificia Universidad Católica del Perú  (PUCP). In 2011 she studied some optional courses at the PUCP. Grace consider them the most important ones of her career: Quechua, ceramics and analog photography.
During the second year, she changed her specialty to sculpture. She completed her BA in 2013. During the last two years she was granted with the Winternitz Prize for being the first one in her promotion. From 2011 to 2012 she participated in an exchange program with the Universitat de Barcelona. By the end of her studies in 2013 she found a very difficult context to deal with as an artist: little money, difficult access to the art circuits and a sense of economic loss for the great investment made during her school years.  Being very aware of her father's reliance on her  talent as an artist, she decided not to give up.
During 2013 she dedicated herself to work on other jobs that were disconnected from the art world. Finally, following the example and the advice of her father, she began to be independent and decided to start a business in parallel with her artistic profession. She is currently in charge of a garage for transport companies in the Constitutional Province of Callao, Peru. Which helped her to continue investing in her artistic production at her own pace supporting herself.
In June 2014 she participated in a residency at the Espacio de Producción Artística Arte y Desarrollo Madrid Spain. "No me quiero ir" was the project she developed and presented at Intermediae Matadero in Madrid, Spain. She also  was a finalist in the Concurso de Arte Joven Contemporáneo de Miraflores  2014 en Lima, Perú and participated in a collective exhibition at  the CC Ricardo Palma Miraflores, Lima. That same year she was a finalist and obtained an honorable mention in the EUNIC Contest together with Fernando Arróspide (audiovisual communicator) and Sachiko Kobayashi (plastic artist) with the project "Lima Semilla".
It is fair to say that her artistic production is closely linked to the different situations she has endured. Currently she's working on installations as a final product of research through creative processes, within which she also resorts to different disciplines such as: performance, interventions in public space, audiovisual material, fieldwork, plastic processes, photography, infographics, etc…