Helena Vinent
Long term residency
may 2018 - 2020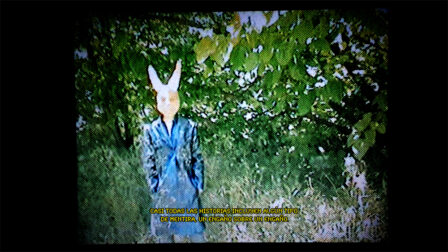 Helena Vinent. Barcelona, 1988
Helena Vinent works with visual and discursive contents that she produces or that she appropriates from different media, to then remix them, postproduce them and resignify them generating her own universe that mutates according to each project. She acts on universally recognisable meanings, and displaces them in order to change certain logics of meaning in order to point out how we construct ourselves in the context of an audiovisual capitalism where information does not flow in a vacuum, but is presented in a political and technological framework of control that remains subordinated to power relations. Dissociation, subtitles, noise, non-sound, virtual space, technological acceleration, new flesh, code, language, construction of truth, error, translation, body control policies, speculative futures and extreme information are several designations that can serve to define her lines of research. Her practice is fragmentary and is not limited to a specific discipline. She explores the limits of the different languages to configure his work, which can be materialized through videos, sculptures, accumulation of archives, prostheses, actions, installations, or expanded distributions. Currently, her work delves into aspects of the identity construction of bodies with functional diversity, addressing the idea of human and post-human construction from her position as a deaf person. From critical reflection she works with theory-fiction stories that speculate on other realities, bodies and imaginaries that allow to divert attention from the prevailing norms. Thus, she experiments with the idea of what is or is not human and the political and material consequences of this conception, starting from the premise that in a disability society like the one we live in, the body assigned as a disability is not read as a complete human body.
She has exhibited her work in different spaces over the last few years. Among them are the exhibitions "Panorama #3″ at the Fran Reus Gallery, " La isla del Doctor Moreau" at Storm and Drunk, "Hugs are underestimated, never undervalued", in the appendix of the etHall Gallery within Art Nou, "Let's art up the factory" and "As slow as possible" at the Embarrat Festival, "Produir, produir, produï(t)" in the LOOP Festival, "Transnational Translation" in Saliva, "Therapeia" in Sala d'Art Jove, "The whole world is watching" in the Festival Panoràmic, "No es lo que aparece" in Fabra i Coats, "Selfcare is warfare" in Ocaña, "Gimmick" in Sant Andreu Contemporani, "Grandes Re-medios" and "Síntesis" in Arts Santa Mònica. She has been a resident in Fabra i Coats under the SAC-FiC Visual Artists grant and is currently an artist in residence in Hangar. She has won the Guasch Coranty Creation grant, the Hangar Production grant, the Baumanlab Production grant, the Fundació Güell Visual Arts grant, the Creació i Museus grant and the La Nit dels Museus grant.
Graduated in Arts Applied to Sculpture by Escola Llotja and in Fine Arts by the University of Barcelona, this year she begins to study the Master's Degree in Cultural Studies and Visual Arts (feminist perspectives and cuir/queer) -MUECA-.