Hsu Yi Ting
Institutional residence in collaboration with the Taipei Economic and Cultural Office and the Taiwanese Ministry of Culture
October - November 2022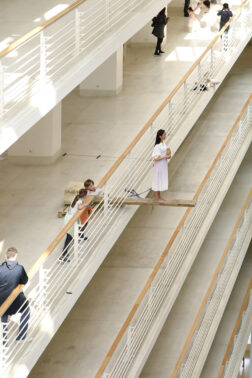 Yi Ting Hsu (b. 1992)
Yi Ting Hsu graduated from the School of Fine Arts at the Taipei National University of the Arts with a master's degree in fine arts in 2020, prior to that she had participated in a study exchange program at the Academy of Fine Art in Prague. Her art focuses on the exploration of boundaries in structures of power, and the resistance, manipulation, and speculation that occur between the center and margin of institutional cores. She uses performances to link together what's inside and outside of these boundaries and seeks to delineate a perspective that is more open and free.
In recent years, Hsu's work has been shown in Taiwan, Prague, Schönsee, Fukuoka, Shanghai city. Some of her exhibitions include《Getting Closer》Gladys Lin Project (2022);《Knock the Floor》YIRI Arts (2022); 《Taipei Fine Arts Award 2020》Taipei Fine Art Museum(2020),《Floating Body ‒ Into the Third Space, Waley Art (2020);《Disorientation Harmony》- 2020 ArTrend International Performance Art Festival (2020);《Above》National Gallery Prague (2019); 《The 17th Taoyuan Contemporary Art Award》Taoyuan Arts Center (2019); and《(In)visible Space》Kuandu Museum of Fine Arts (2019).
Hsu got grand prize for Mod Microfilm & Golden Short Film Contest" Click Taiwain" in 2021, honorable mention for Yilan Award in 2021, honorable mention for Taipei Fine Arts Award in 2020, nominated for the 19th Taishin Arts Award in 2020 and selected for the17th Taoyuan Contemporary Art Award in 2019. She participated in art residency programs at Westwerk.org in 2022 in Hamburg in Germany, Japan's Tsubasa International Guest House in 2019 and the Shanghai Open & Fun Art Village in 2017.