Ioana Georgescu
Ioana Georgescu, Bucharest (Romania)
Residency Period: August – September 2012 / July 2013
Ioana Georgescu was born in Bucharest, currently living in Montreal.
She is a performance-video-installation artist and writer. Ioana's work was presented by Cairo's Townhouse Gallery and by other contemporary art spaces and museums in Europe, North America and Asia. She was artist-in-residence at the National Museum in Jogjakarta (Indonesia) and took part in several international festivals in Manila (Philippines) and Beijing's 798 Art Zone.
Most of her projects are site-specific, interventionist and process based. They are built around core themes of displacement, mobile memory and identity. They rely on the performing body and "performing site".
Two exhibitions in Cairo have set the tone for her current series, Mobile Monuments. Water Monument is a floating video projected on the river Nile; Dust Monument is a video installation set in the abandoned Palace of the Grand Vizier Said Halim Pasha. A new monument is in development in Hong Kong: The Star Ferry Project.
She is the author of three novels: Évanouissement à Shinjuku (2005),  L'homme d'Asmara (2010) and La jetée. Elle s'appellera Mo (2013).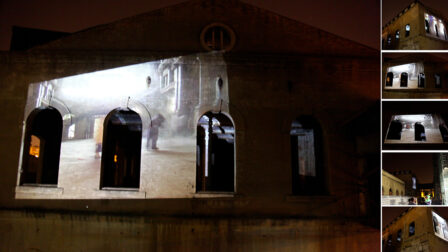 Ioana Georgescu,  Open Sequence @ 22 Hangar, Mobile Monuments, Barcelona 2012