Jeanine Verloop
Summer Sessions 2019 exchange grant
June - July, 2019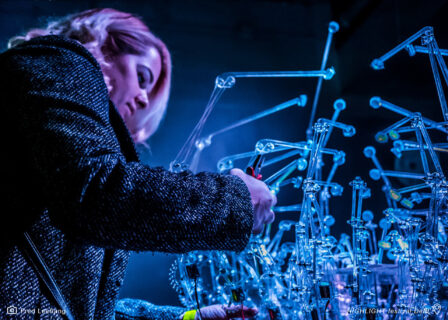 Jeanine Verloop. Korendijk, 1994
"For the future of technology, Jeanine Verloop looks at techniques from the past, noting that we have become too dependent on usability and efficiency and are therefore alienated from our ability to dream. Her printing device Reawaken combines analog and digital technology and connect us again with the lost beauty and magic of our technical means".
– Manifestations, Will the Future Design Us? Dutch Design Week, 2018.
Jeanine Verloop is a visual artist based in Rotterdam, the Netherlands. She holds a degree in Media Design (Grafisch Lyceum, Rotterdam) and Illustration (Willem de Kooning Academy, Rotterdam). Jeanine rejects the idea that craft old and technology is new and emphasizes that craft, art and technology go hand in hand. Benefiting from the precision, efficiency and ever more limitless limits of digital design and manufacturing she aims to retain the soul and skill of the human hand.
Jeanine is inspired by the way technology impacts our imagination. She sees technology as our birthright, what it means to be human. Her fascination for technology and making is not strange. She grew up on the countryside where she was surrounded and inspired by makers and doers. If you wanted something you had to make it, this created a deep bond with making and tools. In the context of art Jeanine takes ownership of craft and technology in order to evoke a world of imagination, the imagination she had as a little girl growing up.
While recently graduating, she already made an impression with Reawaken, a kinetic sculpture with 55 robotic arms that produce prints. In the past year she exhibited her work at various locations in the Netherlands such as GOGBOT (Enschede), Art The Hague (The Hague), Manifestations, Dutch Design Week, (Eindhoven), Highlight (Delft), TEC ART (Rotterdam), Dutch Technology Week (Eindhoven).
Currently, she is focusing on her next machine and research. Her research is in line with the historical development and context of printing machines, writing and typing machines, media archaeology and psychosis in relation to technology.