Juan David Galindo
Long-term residency
May 2020 - April 2023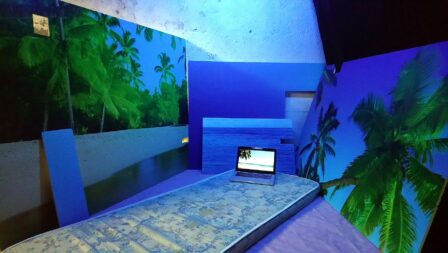 Juan David Galindo. Bogotá, 1992
A Juan. There are thousands of Juanes in the world and he signs as such, as one among thousands. He investigates with artistic projects, materialized through the archive, video or performance, the models of subjectivation that deform, discipline, limit and empower the self. He delves into the construction of subjectivity, starting from what shapes the self beyond identity and biography.
A Juan thinks with the same logic and pattern with which he navigates his screens, opening up layers and more layers, which are superimposed, intermingled and contaminated. He acts with an attention-deficit mind that is not capable of going deeper into a line, and as an effect he is condemned to open links, references and videos. Instead of struggling, he proposes to surrender to its (in)capacity of attention and to its impulse to open and unlock windows. He surrenders to the bombardment of information, merges with his saturated logic and finds tools to copy, paste, replace, suppress and discern, and to build from there a method, a form of articulation that seeks to turn a problem and a consequence into a proposal.
He graduated in Arts and Design at Escola Massana. He attended the Independent Studies Program at MACBA (2017-2018).
He has shown his work individually in exhibitions such as "Sea Standing" at Aurora Galería (Barcelona, 2018) and "NowHere or in the middle of ocean" at Kvaka 22 (Belgrade 2018). He has also participated in the collective projects: "Homeland Video Art 2019 'Changing your Mind'" at the Instituto Cervantes in Dublin (2019); "Osmosis" project of Sant Andreu Contemporani in Milano (2019); in "ESC-OUT: desviaments de les pràctiques artístiques en l'esfera pública" at Fabra i Coats Centre d'Art Contemporani (Barcelona 2019); "Tots els llocs parlen de tu" at Sala D'art Jove; "€uropoli$" at Galeria Àcid Sulfúric (Barcelona 2018). He participated in the screening "A hole in the center of Atlantis", at La Blueproject Foundation; in the exhibition "Intervalo", at Las Cigarreras (Alicante 2017). He participated in the exhibition "The Ass Between Two Chairs" at Galeria Àngels (Barcelona 2016); among others.
Hangar Studio Visit