Julia Spínola
International residency
May - August 2019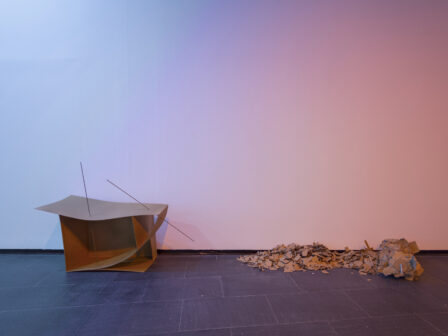 Julia Spínola. Madrid, 1979.
Julia Spínola's work is mainly in the field of sculpture and drawing. A constant in her work is the relationship between material and gesture, taking the gesture as an unfixed image and prior to the work process that has to do with the desire to move matter in one way or another. Another recurrent element in her work is the search for a plot or the invention of a system by which he can chain a series of actions and thus cross the piece through that gymnastics. This need to go through the piece should not be understood literally, but figuratively; it has to do with being alert, attentive, prepared, not thinking (but thinking), forgetting the medium and letting the piece transform during the process, so that this transformation is fixed to the final piece. Her current research focuses on materials that allow us to think of gesture by accumulation and on making pieces that are the passage from a more inarticulate state of matter, from something about to fall apart, to something sharp and concrete, even objectual.
She has a degree in Fine Arts from the Complutense University of Madrid, also studied at the Faculdade de Belas Artes in Lisbon and has recently been able to enjoy a year of residence in Berlin with the DAAD grant programme. She has exhibited her work in various individual and collective exhibitions such as Lubricán, CA2M (Madrid, 2018); Cien caras iguales, etHALL (Barcelona, 2017); Roca, with David Bestué, Halfhouse (Barcelona, 2016); Âo túnel-cabo pelo braço, Kunsthalle São Paulo (São Paulo, 2015); Hablo, sabiendo que no se trata de eso, CaixaForum (Barcelona, 2015/2016); Stiff hip gait, with Alex Reynolds, Komplot (Brussels, 2015); Uno zurdo y uno dextro, y uno zurdo y uno dextro, galería Heinrich Ehrhardt (Madrid, 2014); The drum in the mouth, galería Tatjana Pieters (Gante, 2013);… The Mews (London, 2013).