June Crespo
Materials Research Residence Fundació Sorigué - Hangar
June - July 2023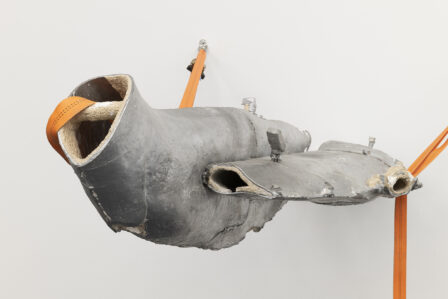 June Crespo. Pamplona 1982
June Crespo lives and works in Bilbao. She holds a degree in Fine Arts from the University of the Basque Country (2005) and participated in the residency programme De Ateliers (Amsterdam) between 2015 and 2017.
"June Crespo's artistic practice is largely identified with sculpture, where she develops a language based on procedures such as collage or assemblage and the experimental use of images. The starting point of her work is the affective and dialectical links established between forms and functional objects that she questions from her immediate environment. Intuition is the trigger for the digestion of interests and concerns of various kinds, without these being explicit or premeditated in the initial conception of the work.
Her methodological strategy is based on the material transformation of pre-existing elements and other forms, which he appropriates by reproducing them with moulds. Crespo intervenes in the way objects are read, liberating their associative potential, in a process that involves establishing a series of relationships ranging from the combination, reconfiguration or arrangement of different parts to the incorporation of processual contingencies such as the fragment, the fracture, the imperfection or the trace. These 'events' are incorporated into the work, reinforcing its materiality, enhancing its tactile quality and enriching the narrative connotation of the new structures proposed".
Extract from the publication "June Crespo. Helmets", introduction by Susana González.
Her solo exhibitions include: vieron su casa hacerse campo (2023) at CA2M, Madrid; Acts of Pulse (2022) at P420, Bologna; entre alguien y algo (2022) at CarrerasMugica, Bilbao; Am I an Object (2021) PA///KT (Amsterdam); Helmets (2020) at Artium, Vitoria-Gasteiz; Voy, sí (2020) at Ehrhard Florez gallery (Madrid); No Osso (2019) at Uma Certa Falta de Coêrencia, Porto; Ser dos (2017) and Cosa y Tú (2015) at CarrerasMugica gallery, Bilbao. Recently, she has participated in group exhibitions such as: The Milk of Dreams, Venice Biennale 2022; Fata Morgana, Jeu de Paume (Paris) or El sentido de la Escultura at the Miró Foundation (Barcelona).