LAI TSUNG-YUN
Institutional residence in collaboration with the Taipei Economic and Cultural Office and the Taiwanese Ministry of Culture
September - October 2022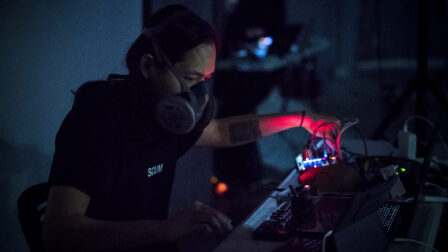 Lai Tsung-Yun. Taipei, 1988
Lai Tsung-Yun has served as the organizer of Lacking Sound Festival since 2013 in Taiwan. Sound and image productions are the first step in his artistic career. He explores the audio mixer's feedback noise and the environmental sound, and fulfills performances which combine audio and visual.
LAI's video works are based on folk religious rituals and AI art, which chain the mixed noises and oversampling test tones altogether, providing listeners a profound dip into the enigmatic soundscape.
Lai Tsung-Yun has curated the Lacking Sound Festival since 2013, which is Taiwan's most renowned sound art performance festival. Now in its tenth year, the Lacking Sound Festival has organized over a hundred different sound art performances since 2007. The Festival promotes sound art events in Taiwan and actively works with sound artist groups from abroad.