Lina Bautista
Research and Experimentation Grant in Hangar's Interaction Lab
December 2020 - January 2021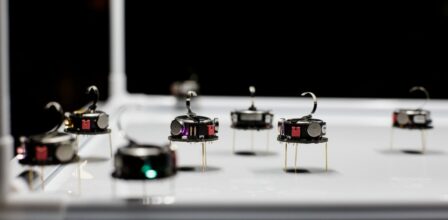 Lina Bautista. Bogotá, 1985
Lina Bautista holds a Master's degree in Musical Arts from the Academia Superior de Artes de Bogotá, with emphasis in composition.
Since 2010 she lives and works in Barcelona, where she completed a postgraduate diploma in Music Composition with new technologies and a Master in Interactive Systems Design at Pompeu Fabra University and a Master in Sound Art at the University of Barcelona.
She was artist in residence at Gracia Territori Sonor in 2010-2011, participating in various festivals such as the LEM, or the Mercat de Música Viva de Vic and in countless concerts of experimental music. With the Linalab project he has performed concerts on stages all over the world. In 2013 she participated in the first live coding meeting in Europe, the Live.coding.fest in Karlsruhe, consolidating herself as one of the pioneers in this field.
In 2014, she was artist in residence at the Eufònic festival with the collaboration of the Centre d'Art Lo Pati in the Ebre Delta, together with the artist Laura Llaneli. From 2015 until today she is part of the Orquesta del Caos, an association focused on the diffusion of Experimental Music and Sound Art, and organizer of the Zeppelin festival. In 2018 she formed the collective Toplap Barcelona, a node of the international community Toplap, based on live coding, currently resident collective in Hangar together with Iván Paz, with whom she also leads the European project on-the-fly. In 2019 she presented the installation work post_window at the Ars Electronica festival in Linz, Austria and at Arts Santa Monica in Barcelona as part of the BEEP collection of electronic art. In 2019 she also presented the interactive installation Waveforms at Fundació Miró within the scope of the exhibition Arte Sonoro? from November 2019 to February 2020.
She currently works as a coordinator at Mediaestruch, Digital Art Area of the Estruch creation factory in Sabadell, she is a professor of the Master of Sound Art at the University of Barcelona and of the Sound Art Workshop in the arts degree at the Universitat Oberta de Catalunya, among other institutions.