Mayra vom Brocke
Buenos Aires Biennial of Young Art
May - June 2021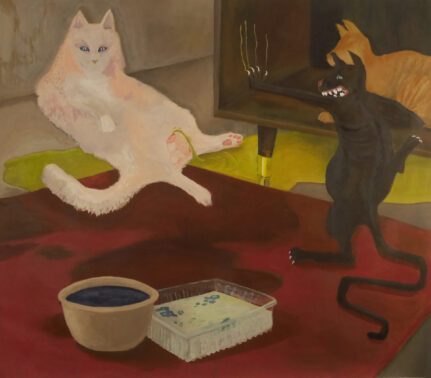 Mayra vom Brocke. Buenos Aires, 1991
She is a painter and works with painting as a field for narration. She thinks of painting as a construction of image and thought. She explores the decisions that reveal the confrontation between matter and its limits (the canvas, the paint) and the appearance of reality in the image. She seeks to find that interstice where word and image dispute the ground: clear situations for those who see them, but loaded with subjectivity in the errors of reference and climate: incongruent lights, windows that are something else, perverse perspectives, caricatured characters, objects that breathe.
She has been studying at the UNA (former IUNA) since 2011. In 2018 she participated in the Artists Program of the Universidad Torcuato Di Tella. She was part of the workshops and/or clinics of Alfredo Benavidez Bedoya (2004-2011) Pablo Siquier (2015), Gabriel Baggio (2016), Mauro Koliva (2017), Silvia Gurfein (2019), Valentina Liernur (2017) Claudio Iglesias (2019 – 2020) and Carlos Bissolino (2015) among others.
In 2020 she had her first solo show, Recipientes y gatos at PASTO gallery in Buenos Aires. She exhibited in places such as Centro Cultural San Martín, Centro Cultural Recoleta, Fundacion Fortabat, Universidad Torcuato Di Tella, Fundación Andreani.
In 2018 he produced, curated and exhibited in an independent and self-managed project: "Estilo Estigma" which consisted of the total and specific intervention of a former printing press from the 1920s (Imprenta Botta, San Telmo) carried out by 28 artists who developed site-specific installation projects over 4 months.