Mercedes Mangrané
Long term residency
may 2017- 2019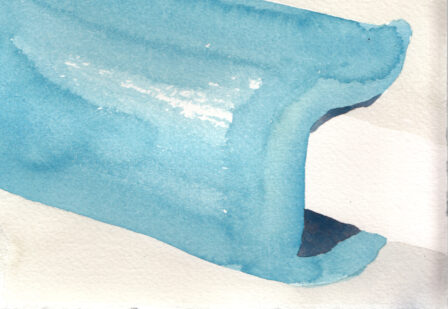 Mercedes Mangrané Mora, Barcelona 1988
The artistic practice of Mercedes Mangrané places the starting point from her more immediate daily life. In her projects she investigates through video and painting the control mechanisms of contemporary society, the common spaces constituted by the new leisure landscapes, the naturalized artifice of consumer life.
Starting from a certain discomfort caused by the seemingly docile, she investigates the imaginery associated with comfort, the privatization of public life and the violence contained in the narratives of self-improvement, sometimes playing from a certain melancholic tone that gives off the pictorial treatment on a theme, other times from the documentary view, hybridizing fiction and the subjectivity of the autobiographical notches.
After obtaining a degree in Fine Arts from the University of Barcelona, she completed an Erasmus at Middlesex University in London. She holds the Master of Creative Documentary Film from the Universitat Autònoma de Barcelona (2011). She also obtained the Certificate of Pedagogical Aptitude after attending the 2015 Master's Degree in Training of Teachers of Compulsory Secondary in drawing specialty by the Universitat de Barcelona.
She has participated in collective exhibitions at institutions such as the Center d'Art Santa Mònica, Can Felipa, Bòlit Center d'Art Contemporani (Gerona), Capella de St Roc (Tarragona), Espacio AB9 (Murcia), Sala d'Art Jove de Barcelona, Espai Room 15 (Olot).
He has exhibited collectively at the Espacio Trapezio (Madrid), Esther Montoriol Gallery (Barcelona), Bacelos Gallery (Vigo), Art Nou at Cyan Gallery (Barcelona).
She has also participated in the 9th Biennal d'Art Leandre Cristòfol, Biennal d'Amposta '10; in self-organized cultural spaces such as Karat (Cologne), Major28 (Lleida), Keroxen (Tenerife), Demolden Video Project Space (Santander), as well as in various festivals of art and audiovisual culture: Loop, Punto de Vista Documentary Film Festival (Pamplona ), Szecin Festival (Poland), Fringe (Edinburgh), Wavy Banners (Denmark).
Among other collaborations, she has done cultural mediation at UNZIP Arts Visuals (El Prat) and collaborated in the artistic research "Approach to the ecosystem of art teachings of professional character to Catalonia" with Sinapsis Projectes.
mercedesmangrane.com