Meriam Ben Amor
Creation Residence BCN>ALG>TNS
December 2018 - January 2019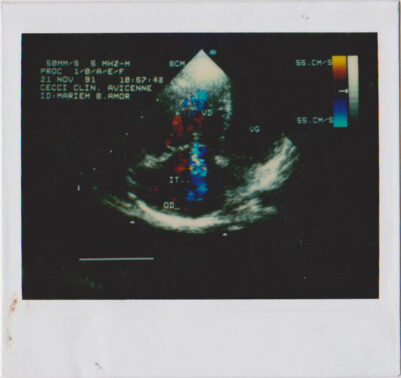 Meriam Ben Amor. Tunisia, 1989.
Graduated from the Master of Research in Visual Arts, Meriam Ben Amor is always on the hunt for everything that comes from methodology, logic and language, to develop practices that question the process. This search is enriched with experiences and observations of their experiences. It observes and monitors the slow and rapid transformation of everything that intrigues it, such as rhythm, writing, footprint and machine.
Meriam began her quest by serving blind people to teach them art and, more specifically, to draw compositions using her own Braille writing, as a Prometheus mission, stealing the secret of the Gods' fire to give to humans.
Her curiosity towards the "Divine Secrets", as she calls them, especially towards the machine, began from her childhood: a curiosity that she drags as a child when, for cardiac reasons, she puts herself in the ECG electrocardiogram machine in her usual controls. An experience testified by every image that fills a medical file that she has kept for twenty years. Memories that led her to ask questions about the machine and the image, such as: is it the machine that draws these fingerprints or your heart? Thus she achieves a spell of visual poetry, her own graphic language that experiments with features and sounds in search of an environment that seems to be created in proportion and unity, whose writing does not contradict the gesture or the language of the ECG.
Interested in everything that comes from the beginnings, in the moments when logic, process and language are at the beginning of structuring, Meriam's practice is impregnated with semiology and the evolution of new technologies, diverse visual techniques and different experimental terrains (experimental video, painting, video installations, writing and sounds) that guide and gain her in the experimentation of devices and the introspection of the image. Following her quest, Meriam opted to remain closer to language by basing this time on the experience of music, thus inscribing its problems, which will be dealt with in the project of the residence; the evolution of the score from classical music to electronics.
Currently, Meriam Ben Amor is beginning a doctoral research on the digital art market while continuing to explore her career by exhibiting collectively at the Bchira Art Centre, the Archaeological Museum of Sousse, or the ElBirou gallery, and developing her own artistic approach in residencies such as the Centre des Arts Vivants de Radès (Tunisia).
https://vimeo.com/meriambenamor