BeAnotherLab's agenda for November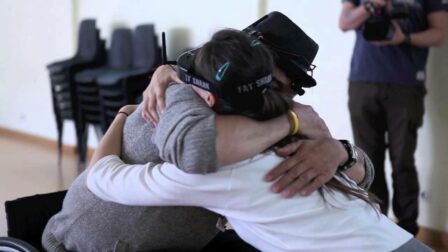 During the month of November BeAnotherLab will be presenting "The Machine to Be Another" at Futurapolis in Toulouse (4-5) and the Geneva International Film Festival (9-12).
Workshops in creation of embodied/immersive media will be held in collaboration with local BeAnotherLab Nodes at STATE Festival in Berlin (4-6) and Seminario Transmedia at Cinemateca Distrital de Bogotá in Colombia (15-18). While in Colombia BeAnotherLab will also participate in the #PeaceHackCamp event in Salento, Quindío (20-24).  The event is centered on inter-communal peace building through open culture and transformational digital culture. Finally, the collective will be working to produce a series of embodied/immersive documentaries. This will take place with the support of FLUPP (8-13) and families of black men murdered by police in the favelas of Rio de Janeiro. Another series will be produced locally in the neighborhood of Raval with the support of IF Barcelona during a two-week residency in Arts Santa Monica (15-2). Local collaborators are welcome during this residency.
If you would like to participate please get in touch through beanotherlab(at)gmail.com.