Trobada 2.3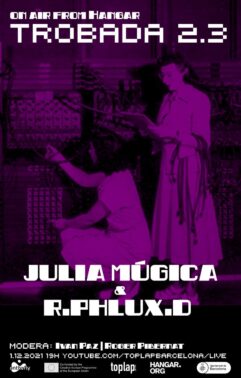 On the 1st of December 7 p.m. takes place Trobada 2.3 in Hangar, an activity led by the collective in residence TOPLAP Barcelona in collaboration with the On-the-Fly project and the Municipality of Barcelona.
The activity in the form of a talk-performance to get to know the work of the Toplap Barcelona live coding community.
The invited performers for the event are R.Phlux.D, member of the live coding collective of Madrid and Julia Múgica, scientist and coder, member of the Toplap Barcelona community.
The Trobada 2.3 will be streamed live on Toplap Barcelona's YouTube channel.
The event is part of the European On-the-fly project and is supported by the Creative Europe program.
With the suport of: