Giuliana Racco and Matteo Guidi at the TRANSLOCATIONS exhibition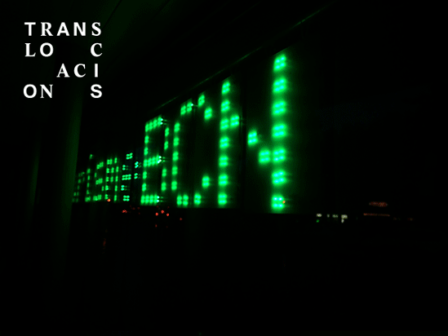 Translocations – Project Observatory is an exhibition comprising a group of heterogeneous artistic works which, taken as a whole, deal with contemporary mobility fluxes and their interactions with social and public spaces in specific sites within various cities. Global phenomena which have a geo-political global impact, such as tourism, migration or displacement due to job-seeking, are dealt with through contextualised projects, some of which analyse, and some of which report upon, the ways in which these phenomena affect or influence the local context, while still others propose alternatives . The consequences of mobility, in relation to citizenship, identity, territoriality, diversity, and the consolidation or the construction of public space, intersect and show disparate effects according to circumstance, time, and placement.
This exhibition brings together a number of projects already realised in several cities by a selection of artists and creators, along with the various phases, which were developed as part of TRANSLOCATIONS, and also various production projects developed within the context of Raval and the Barri Gòtic.
Overall, Translocations reveals the worldwide scope of the phenomenon of mobility, but also how it takes on specific nuances in each location, and how many related issues achieve form and relevance according to the ways in which this phenomenon is dealt with. The selected projects impact upon these contexts through mapping, by enabling critical action, or by deploying mechanisms of collaboration and co-participation within the urban context.
MICROINTERVENTIONS | TRANSLOCATIONS (Projects in the contexts of Raval and Gotic in Barcelona)
A MICROINTERVENTION is a specific action, a process, an ephemeral intervention in space, a small involvement with a site, a collaborative activity, a formalisation adapted to context, an idea coming together to present a new perspective, a macro-intervention on a small scale, the visible display of a collective interest, or any project which affects the relationship between local and visitor.
MICROINTERVENTIONS KEY FEATURES
Chosen though an open call, the selected projects consist of a work of production based upon a connection between the specific contexts of the Raval and the Gothic Quarter, and elements or subjects of contemporary mobility (translocal) such as tourism, migration, or everyday journeys for work reasons-commuters-. 

- Projects make a timely impact upon the context, reflecting aspects conveyed by a critical perspective, or to generate work processes from interactions in public space. 
- Projects and processes are linked to individuals or neighbourhood groups which deal with any of those issues defined as translocal
- Most of the projects adopt a multidisciplinary perspective.
MICROINTERVENTIONS KEY OBJECTIVES
– To connect with spaces within the city, to promote appropriation and knowledge, and to raise awareness of citizen networks for the transformation of public space.
– To enable the development of creative projects linking with local action.
– To encourage creative strategies providing temporary revitalisation of, and transformation in, the use and experience of the city.
– To promote artistic interventions which connect to civic networks.
– To promote experiments and actions carried out in specific public spaces within the Raval, the Gothic Quarter and the Port of Barcelona.
– To encourage work which connects local questions to elements relating to mobile populations.
SELECTED PROJECTS
Title: TRANSRAVAL
Authors: Brigitte Vasallo and Pol Galofre – Colectivo Cautivo
Title:  NACIONES COTIDIANAS DOMÉSTICAS UNIDAS
Author: Juan Pablo Ordúñez/ MawaTres
Title:  UN DÍA SIN TIEMPO
Authors: Diásporas Críticas.  Verónica Lahitte, Rebecca Close, Anyely Marín Cisneros
Title:  VIDEOVAN
Author: Ro Caminal
Title:  FEM PLAÇA
Authors: Collective Fem Plaça
Title: THE ARTIST AND THE STONE
Authors: Giuliana Racco and Matteo Guidi
Title: PHOTOGRPHIC PROJECT FOR TRANSlocations
Author: Jordi Puig
TOROLAB – Raúl Cárdenas
Josep-Maria Martín
15.07.2015 – 13.09.2015