PARATEXT nº6 with Antonio R. Montesinos, Christina Schultz, Ciprian Homorodean and Jia-Ling Hsu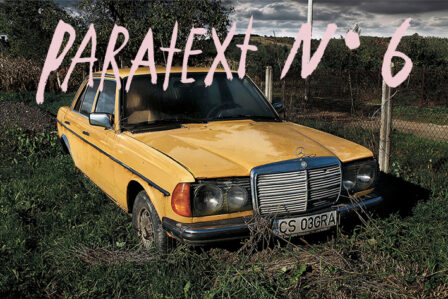 Paratext hides a monthly schedule of presentations by artists in residency in Hangar, always on Wednesday from 7 pm to 9 pm. Several artists present in unconventional formats specific projects or parts of their works. The meetings are always opened to the public in order to enable interaction with the artists themselves.
Next session will take place on Wednesday, October 14 at 7 pm in Hangar at Ricson space.
The artists will present their work:
Work from the analysis, modification and recording spaces that build our everyday experience, trying to understand how this develops in a hybrid environment mixture of the real and the fictional, the urban and the natural and physical to digital.
Especially interested in the different ways of understanding the production of these spaces where we live, and in the confrontation between different models of political-social emergency (Bottom-Up) and hierarchical control structures (Top-Down). His proposals aim to analyze the tension between management structures and regulation of space in front of the live-action capacity we have on our environment – through everyday actions such as communication or displacement -.
His work uses different media including drawing, photography, found objects, installation and digital media. These media sum inherited methods of sociology, anthropology and design of information: files, diagrams, models, computer graphics, mapping, fieldwork, surveys and workshops. The use of poor materials, the use of Low-Fi technology and near the "Do it yourself" methods are constants in the development of their work.
Lives in Barcelona for more than a decade and her artistic career is offspring of and self-taught intellectual working-class. School, internships, jobs and technological and artistic training. She is a hacker of all kinds of reestablished authorities and daily routines. Her intention is to transcend to active and subversive relationships and to learn continuously. Her diverse artistic practices oscillate between data and paper, open-source and open-space, performance and theory, concept and narration. She pretends to be a collective because that is how she feels. She hates being on stage but she's good. The internet fascinates her and she explores her multiple formats. Technofantasies with conceptual narratives is what comes out of this.
During the least years she has developed various artistic and participative online calls, performances, stop motion movies, lectures and site specific collages. She has also stayed in residences of 1-3 months: Nau Coclea-Camallera (Girona), La Bonne-Barcelona, Nau Estruch-Sabadell, Glogauair-Berlin.
Considering art as just another language, he uses whatever media he finds appropriate to give his discourse a form, although a sculptural approach is often present in the conception of his projects. His vocabulary draws on personal history and observations of the world, viewed through a glass of humor and irony that is tinted nonetheless with a bit of quiet rage. The subjects he contemplates in his works are informed by controversial social, economic and political context, but the bottom line is human experience at its worst and its best. Central to his reflection are the mechanisms of stereotype, which sometimes influence our perceptions and define how we are perceived, as well as the individual's quest for identity and the roles we voluntarily or unwillingly incarnate. In his art he develops a constellation where model and anti-model coincide: hero and villain, failure and success, wealth and poverty, life and death, and ultimately, art and life. Both sides of the story should be told.
Hsu Jia-Ling's works are time-based, including performances and moving images. Being drawn from personal family and romantic relationships, her work is an emotional response to the notion of love and confinement. It incorporates memory and dream, which creates a sensational reality, and transforms the unspeakable into an intimate touch of mind. Jia-ling's performance work incorporates the surrounded space into her narrative. Besides inserting the body movement into the context of specific sites, she also makes pieces that turn the space into a theatrical venue. By using multiple materials such as text, object, sound and lighting, she creates a collage of scenes that provokes an open narrative.
Selected performances include: Wash Off. Fantasy Theatre's "Wash" Theatre Festival. Solo Singer Inn: Taipei. Taiwan(2014); Daily Life. Taiwan-Hiroshima Performance Art Show. Polymer:Taipei.Taiwan(2014, group exhibition); FOURbidden. Hopscotch Body Movement Theatre's "Body & Sound" program. Changee:Taipei.Taiwan(2014); I am breathing, and so is it. Sidewalk by the construction site of Taipei Dome: Taipei. Taiwan(2014).
Collaborators: