(Català) Activitats de: The Artist and the Stone de Matteo Guidi i Giuliana Racco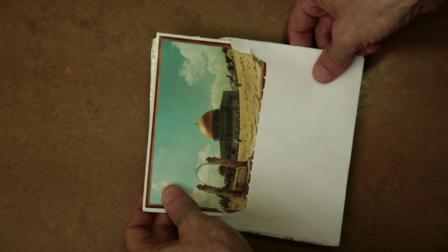 Tuesday 10 November double opening event of The Artist and the Stone in Barcelona!
Acte 33: Matteo Guidi – Giuliana Racco, The Artist and the Stone.
Location:
1:30 pm Event at Pla de Palau within the framework of Translocations.
7:30 pm Exhibition opening at Nivell Zero of the Fundació Suñol
During the PUBLIC ACT at Pla de Palau the artists will be accompanied by Marwan Burin, spokesman of the Diplomatic Mission of Palestine in Spain, Ramon Parramon, curator of Translocations, Alex Brahim, curator of The Artist and the Stone and the team project.
For ACTE 33 at Nivell Zero of the Fondació Suñol, Giuliana Racco and Matteo Guidi propose – under the curatorship of Herman Bashiron Mendolicchio – a series of works representing a crucial phase: key moments of the double movement driving the process.
The Artist and the Stone
Conceived in January 2014, the process-based piece continues the artists' investigation into the ways people bypass restrictions and limitations in their daily lives, moving through systems imposed on them. The Artist and the Stone speaks of mobility, citizenship, desire and constraint by negotiating the twofold movement of a subject (a performance artist) and an object (a 22- tonne block of stone) from Hebron (West Bank) to Barcelona.
The work originates from In Between Camps (2012), a two-day walk-piece realized in Palestine, following the ground-embedded stone traces of an ancient Roman aqueduct, built to carry water from a Herodian pool (located in the Hebron area) to the ancient city of Jerusalem. The simple daily practice of 'taking a stroll' was extended over an expansive and contended territory as an immersive experience concerning geography, history and politics. This search for the ruins from a prior era of colonization was interrupted by the appearance of a giant quarry, literally carving out all layers of and references to geography and history.
The Artist and the Stone emerged one year later, when a colleague -an artist and refugee by birth- expressed his desire to travel from Palestine to Europe in order to develop his artistic practice. Giuliana Racco and Matteo Guidi decided to transform the tension between desire and constraint, manifest in this simple request, by contrasting the process of his movement with that of an object with the same origin: the stone. From its very conception, The Artist and the Stone has catalysed exhibitions, workshops, round tables and pedagogical activities.