Top-manta #1: A ras de suelo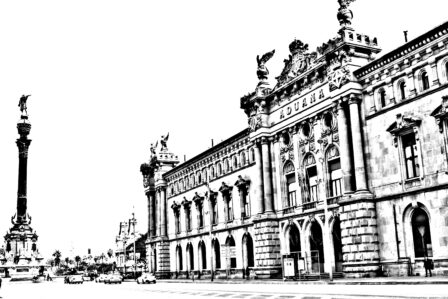 On February 18th, at 12.00 p.m., in front of the Barcelona Maritime Customs, will happen Top-manta #1: A ras de suelo. The first expository action of the curatorial research and experimentation project "Hecha la ley, hecha la trampa", o :el contrabando como alternativa", proposed by the Brazilian curator Maykson Cardoso in the framework of the research residency program Encura.
The Maritime Customs building is located next to the statue of Columbus, pointing towards the sea, in the old port of merchandise, in the Rambla. Facing the verticality, hygiene, valuation and deprivation of the white cube, in this action the pieces will be exposed in the horizontality, dirt and contempt of the street, on a black blanket, "at ground level". In addition to that, part of the pieces will be for sale at popular prices.
The action has the participation of the following artists:
Alejandra Avilés (Mexico)
Eliana Beltrán (Colombia)
Nuno Cassola (Portugal)
Daniel Escobar (Brasil)
Rafael Perez Evans (Spain-Wales)
Andrea Gómez (Colombia)
Carlos Monroy (Colombia)
Mano Penalva (Brasil)
Maria Sabato (Argentina)
Tali Serruya (Argentina)
Gian Spina (Brasil)