Ona Bros
Artistic Research Grant Fundación Banco Sabadell – Hangar
February - October 2022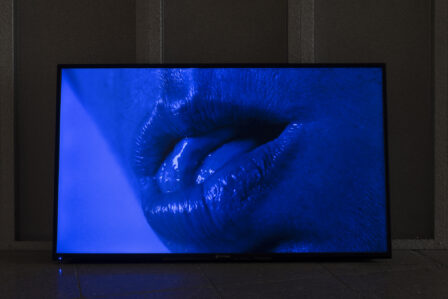 Ona Bros. Lérida, 1977
Visual artist, researcher
pornographer and raising.
Ona Bros focuses on the political attention of images as catalysts of semiotic-technical-material complexes. Her practice is situated and " embodied ", she always investigates from the lived experience and from its relationality, in a queer inhabiting and a transfeminist sensibility. She works with photography, video, writting and performing arts, materials that she puts in relation with distant epistemic fields in search of narratives that break ( perhaps/briefly) the present.
Her practice interrogates the taboo as a densely nerved social zone plagued by imaginaries. In "Cum Shot" she used autoethnography to analyze the constellations of humans and non-humans involved in the construction of sexually explicit images.
Drawing from her gestational experience, she is currently investigating the discourses around genetics in the context of global biomarkets in the field of assisted reproduction. The project BetaBlastoCuir amalgamates scientific, mythological, somatic and poetic narratives to propose other imaginaries that expand the feasibility of the reproduction of life, kinship bonds and maternity practices.
Today she continues to research pornographic production with the collective project IEP-Institut d'Estudis del Porno.
Ona Bros has a degree in Art History from the University of Barcelona, a BA in Photography from the Polytechnic Foundation of Catalonia and a Master's Degree in Artistic Production and Research from the University of Barcelona.
She has exhibited her work at Nogueras Blanchard, La Casa Encendida, ACVic among others. He has given lectures and workshops in the contexts of: Dutch Art Institute, DONE Program of Reflection and Visual Creation curatorship, Hemispheric Institute of Performance and Politics meeting in Lima, Art Photo BCN, Hangar or Hamaca. She has been selected for residencies at Nau Estruch, Brut Nature de La Caldera or La Poderosa in Barcelona. She is a founding partner of the cooperative project FUGA, which has been a photographic center of reference in the city and is currently in a post-pandemic reformulation phase.