Befaco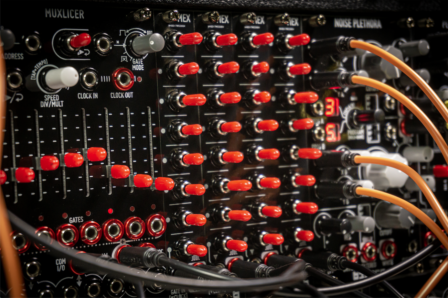 Befaco is an Eurorack manufacturer that also offers DIY kits, organize workshops and release their designs under creative commons license.
In February 2010 Befaco was created as an open hardware platform focusing on professional DIY musical hardware, materializing the previous electronic, musical and artistic research of its members.
Their main activity has been developing synthesizer modules in Eurorack format and making them available in workshops. All this research is published under CC-NC-SA License, so people can download the schematics, and technical assembly guides, to make their own variations of the projects. They build all their designs during their regular workshops in cities as Barcelona, Madrid, London or Berlin. During the past seven years, apart from these regular four cities, they have visited cities as Tokyo, Kyoto, Frankfurt, Helsinki, Lyon, Stuttgart, Amsterdam, amongst many other European cities.
These workshops are a huge test playground where they can track each module being built by different worldwide users, get direct feedback and quickly improve them, develop new ones or adapt these instruments to users demands constantly.
Direct contact with DIY enthusiasts allow an implication of users in the structure, allowing them to design their own modules and develop them professionally. This has developed into an incubation environment for several new modular initiatives, allowing different makers to start their own similar projects.
Befaco initiative is possible thanks to the support of Hangar, Barcelona city hall and the titanic work by the whole Befaco team.