Paloma Schnitzer
International residency
November - December, 2019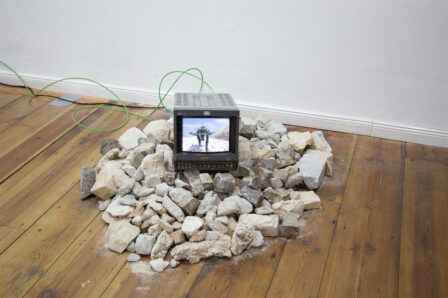 Paloma Schnitzer. Buenos Aires, 1988
Paloma Schnitzer's practice is the result of her interest in revising and questioning the images that surround everyday life, focused on the relationship between devices, their functioning in societies and the traces they leave. Her most recent work incorporates to video, spatiality and the mixture of mediums. She works with obsolete video monitors, found objects and uses methods such as repetition, slow motion, analogue and digital errors and soft montage.
Her work is of an investigative nature, she is interested in exploring what of the world is taken for granted and generating dialectical relations from there: between spoken languages and technological languages, between the mechanical and the organic, between errors and traces, between the intangible and the material, between the images of the present.
Noise frequently appears to reveal the patterns of human presence, the proof of an error, through which it can be traced. The combination of textures and mediums builds in her works an atmosphere of a past that never was or a memory of something that has not yet happened. Although familiar, the images dislodge into a primary perception, then a question unfolds upon them.
Her work has been exhibited in shows such as "Oscilante" at BAPhoto, "Fundación Varioletto" at Faena Arts Center, "Joseph Josehp III" at Loophole (Berlin), "No Plan" at Schmiede (Salzburg), The Exchange Gallery (Pennsylvania), fu:bar festival (Zagrev), "Spectulation" at Weserhalle (Berlin), "Roce" at Espacio 911 or "Automaton" at Greenhouse (Berlin). She took part in the project Labour In a Single Shot, by Harun Farocki and Antje Hehmann, where she made pieces that were selected to be exhibited as part of the group shows at the Venice Biennale (Venice) and at HKW (Berlin), among others. She actively collaborates in the collectives Trial and Teresa, around live video performance and in Solid Colors, where she is co-founder, developing experimental video research on language and words.