Paratext#34 with Maija Annikki Savolainen, Francisco Navarrete Sitja, Xavi Manzanares and Gazi Nafis Ahmed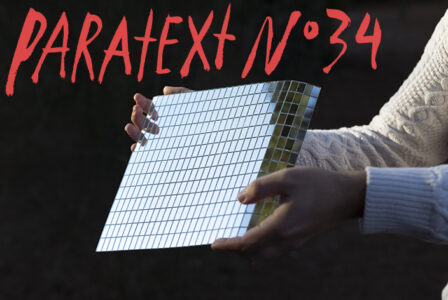 This name, Paratext, hides a monthly programme of presentations by the artists residents in Hangar of long and short duration, as well as the international residences, always on Wednesday, from 7 p.m. to 8:30 p.m. Various artists will be presenting in different formats, specific projects or parts of their works. The sessions are always open to the public in order to facilitate interaction with the artists themselves. In addition, each Paratext has an editor who then publishes his/her impressions of the presentation on this blog. On this occasion the editor will be Lluís Nacenta.
The next Paratext session will take place on Wednesday February 27, at 7 p.m. in the Sala Ricson of Hangar.
Projects will be presented by:
Maija is a visual artist working with photography and installation. She gained my Master of Arts in Photography from Aalto University in 2014. With a background in studying biology, her work tends to combine natural science and art. Sunlight and photographic gestures are significant themes in her practices.
During her residency she will continue working with an ongoing series, Matter of Light. It is a body of work about the material qualities of sunlight. She have drafted it to become a book with two parallel narratives: photographic and textual.
Images depict the process of material translation which happens when a picture is taken – photons and rays of light are attached to something that is tangible, such as photographic print or a digital file. In the pictures, however, she don't show photographic equipment, but gestures that metaphorically refer to photography's attempt to touch and freeze light's materiality. She often use thin yarn, paper or sand as tools to show the position of light and shadow in the picture. They also refer to the basic elements of image making – line, dot and volume.
Texts are scientific depictions of sunlight. She writes them together with a biologist Dr. Titta Kotilainen. The combination of both, scientific and metaphorical approaches to sunlight is meant to open a discussion between scientific and non-scientific knowledge, and how they can support each other.
The artistic practice of Navarrete reflects on the contemplation, temporality and subjectivity of the image and representation of the territory. Hence-superimposing reality and fiction, the material and immaterial, the local and global- he speculates on certain narratives associated with the construction and performativity of the landscape view; interpellates the symbolic dimension of certain material expressions of certain contexts as enabling new horizons of meaning; and addresses various technical devices as configurators of our way of seeing, understanding and situating in the world.
From a time to this part, Navarrete has acquired great interest by the exploration of field in diverse topographies, approaching thus to local geopolitical problems that intersect the image, technical intervention, nature and society. In this sense, the artist has dedicated himself to producing specific projects based on his in-situ experience and analysis of ephemeral spaces; working in places invisibilized or in a state of transformation due to the dialectical condition between their processes of historical recognition and modulation of certain material manifestations – natural and artificial – of the environment. Navarrete is interested in these contexts, since they allow him to question standardized subjectivities and generate stories of counter-memory – bifurcations – about different dynamics of territory exploitation; making its way towards the vulnerable, drift, chance and other attributes of it. Thus, the artist establishes an affective nexus with the geography that allows him to speculate on the production of visual imaginaries.
On the other hand, Navarrete works with the expressive possibilities that the photographic language and contemporary image allow through its multiple formats, means, techniques, non-traditional modes of movement and formal displacements. In addition, it uses ideograms, blogs, objects, archives, cinematographic appropriations, interviews, sound landscape and video animations, among others. To these means and resources he incorporates operations and methodologies of some scientific disciplines as a way of approaching other models to organize the sensitive or generate relations with the techno-scientific imaginary.
 Xavi Manzanares is an Architect by the ETSAB / UPC (2001). Within the framework of Architecture he has been developing an unconventional praxis of the profession in collaborations with Straddle3 (Experimental and Social Architecture), NSP (bioarchitecture) or Congoritme / Bea Goller Arqs (Architecture and Research Design). After a performative and luthieristic journey in the framework of experimental music under the dAAX identity -which has led him to tour different stages and festivals around the world since 2003-, in recent years he has been collaborating on projects located at the intersections of the arts, sciences and technologies, within the framework of the Open culture. The most relevant are the research projects Ondas Hápticas, Enjambres, Paisajes Aurales, MobilityLab and Sonic Spaces. Their artistic practice combines sonology, experimental music, electronic arts, creative programming, interaction design, as well as maker practices, with a critical engineering perspective. The common objective in these practices is to situate research scenarios as creative engines and materialization of experiments, actions and scenarios oriented to a perceptive, cognitive and sensitive aspect, without forgetting their philosophical, ethical and biopolitical implications. Insistent practitioner of the Open culture since 2003 in its variants (Open Culture / Research / Techs) he has published the research Ondas Hápticas (started in 2015), several sound releases, as well as a series of creative applications accessible and open.
Gazi Nafis Ahmed is an internationally acclaimed artist working with photography. He was born on November 21, 1982 in Dhaka. His works explore issues surrounding human rights, gender & sexuality, migration, racism, and xenophobia.
His works have been curated by celebrated curators like Daniel Baumann (Director of Kunsthalle Zürich), Paris based Indian curator Deepak Ananth, Diana Campbell Betancourt (Artistic Director of Samdani Art Foundation & Chief Curator of DAS), Bhavna Kakkar (Founder & Director of Gallery Latitude 28) among others.
He had solo exhibitions at the Edward M. Kennedy Center and Goethe Institute in Bangladesh. He has been the youngest artist to have a solo exhibition at the prestigious South Asian Bengal Gallery of Fine Arts founded by Bengal Art Foundation.
His work has graced the pages of New York Times, The Guardian, Forbes, Bloomberg BusinessWeek and The New Yorker among others. Moreover, written about by curator John Zarobell of SFMOMA & Philadelphia Museum of Art, award-winning English write Sean O'Hagan among others.
Work of Ahmed is currently part of important collections such as Samdani Art Foundation, Brian Weinstein Collection, and Christies Specialist Collection among other private collections.
In 2016, he became an honorary fellow at the Center for the Study of Social Difference at the Columbia University. Nafis was awarded Artist Protection Fund Award by the esteemed Institute of International Education Funded by the Andrew W Mellon Foundation, the USA in 2018.
His work has been subject of broadcast in Bangladesh, India, Netherlands, Spain and USA.