Phillip Maisel
Short term residency
February - September 2020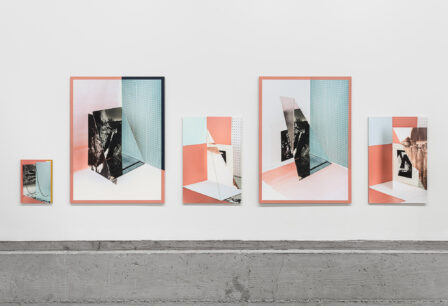 Phillip Maisel. Chicago, 1981
Maisel's working practice explores the language of photography through sculpture, collage, and photographic objects. Subverting the viewer's own visual literacy and expectations of photographic space, he provokes a reevaluation of both the use value and two-dimensionality of the medium.
Maisel collects everyday materials from specific geographic locales, utilizing them to create sculptural arrangements in shallow spaces in the studio. He then photographs the arrangements, continuously readjusting and rephotographing the materials in place, resulting in iterative sequences that recontextualize the various histories of the materials. As the same objects are reoriented through a series of images, the elements gain distinct visual traction through their repetition and reappearance in multiple works.
Maisel's still lives are often composed of dead-stock paper, reused building and architectural materials, mirrors, and various photographs – family photos, found imagery, and the artist's own snapshots. Through the act of rephotographing, a leveling occurs between the images and materials. The significant and the arbitrary, the mundane and revelatory are all abstracted through the remove of the camera and the flattening of space. The subjectivity of the embedded images and materials functions in contrast to their apparent formalism.
Maisel uses ambiguous perspective, angular compositions, and abstracted forms to both focus attention on the surface of the print as well as the depicted space of the image. He also reintroduces dimensionality to the picture plane through adding cuts, drawing, painting, and collage to most but not all prints, resulting in a push and pull between two and three dimensions.
Maisel holds a MFA in Visual Arts from California College of the Arts in San Francisco (2013), and a Bachelors of Science in Psychology from McGill University in Montreal (2003). Solo exhibitions include: Gregory Lind Gallery in San Francisco, Shulamit Nazarian in Los Angeles, and Document in Chicago. His work has also been exhibited at the William Benton Museum in Connecticut; The University of New Mexico in Taos; and DeCordova Museum in Massachusetts. His work was recently featured in Photography Is Magic by Charlotte Cotton. Reviews of his work have appeared in Lenscratch, Art Practical, Modern Painters, and Fabrik, among others.
Hangar studio visit 2020: