Rafael Pérez Evans
Long term residency
May 2016 – 2018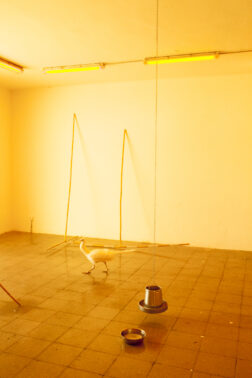 Rafael Pérez Evans, 1983
Spanish/Welsh artist. Lives and works in Barcelona, Spain. Rafael received a BA in Fine art from Goldsmiths University, London UK.
His works have been shown in Mexico, Rio de Janeiro, Sao Paulo, U.S, London, Berlin & Madrid.
Through the use of research and ethnography, he is excavating and unearthing lost stories, newspapers, images & local rumours. These then get reworked and result in installations which use photography, found imagery, video, objects & painting, that produce a further blurring of their contents source as well as bring to surface the problems inherent in reading a narrative.
As a sort archeologist from the 'West' he has been working and living in countries such as Mexico, US, Cuba & Brazil, where he operated within a certain western nostalgia for a rawer past, creating works and extracting source material to then reconstruct in Europe, in this process also encountering a certain post-colonial anxiety which hovers through his practice.
In his 'diggings' we encounter various sites & research centres, an example is the history of sugar cane plantations in Brazil, which intertwines economy, land, labor, colonies, and whose ghost – spectre is still ever present.
Preoccupations in unearthing peculiar local stories is part of the foundation for this type of archeology, where the findings of his 'diggings' can bring some further questioning into the subject of how we relate to hierarchy within the information receive in stories, history and rumours.
Rafael has completed a 3 months residency "Sassafras" in Liberty, Tennessee USA 2011. Co – directed Romita 26 arts-studio in Mexico City 2012, as well completing a 3 months residency in Red studios Sao Paulo 2014, directing Alto Residency in Brasil as well as being part of Despina & Gazua projects in Rio de Janeiro. He Taught photography at the University of Rochester, (UK) and recently his film Cruising Tabernas was released at international film festivals.