Quimera Rosa starts its residency with the project Trans*Plant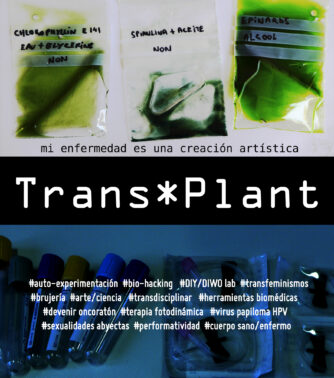 From the 4th to the 30th of June the collective Quimera Rosa carries out a residence in Hangar's wetlab. The objective of this residence is the continuation of the project 'Trans*Plant: Mi Enfermedad es una Creación Artística started in the framework of the Prototyp_ome programme.
This medical self-experimentation project on condylomata acuminata, an STI produced by HPV (Human Papilloma Virus) and with which one of the components of Quimera Rosa coexists, is based on replicating and releasing Photo Dynamic Therapy (PDT). PDT is a very minimally invasive technique with great results on localized cancers and skin diseases, based on the application of a photosensitive molecule and its activation by a specific wavelength.
The main objective of Quimera Rosa's project is to open the black box, as hackers say, or to open the pill as activists affected by AIDS said. The idea is to replicate and make accessible the knowledge through a wiki which could be used by community health centers and/or people who are excluded from the public health system.
In parallel to biomedical research, Quimera Rosa's objective is also that of including this work in the installation 'Trans*Plant: May the chlorophyll be with/in you' that integrates the different parts of the Trans*Plant project since its beginning in 2016. This installation will be presented in several art centers in Europe and Mexico from July 2019.
Quimera Rosa is a laboratory for experimentation and research on identities, body and technology, created in Barcelona in 2008 and nomadic since 2014. Quimera Rosa is inspired by the notion of cyborg developed by Donna Haraway, who defines them as "chimeras, theorized hybrids and manufactured from machine and organism". From a transfeminist and post-modern perspective, they make the body a platform for public intervention, with the aim of generating ruptures in the border between the public and the private. They conceive sexuality as an artistic and technological creation and seek to experiment with hybrid identities that blur the boundaries between natural/artificial, normal/abnormal, man/woman, hetero/homo, human/animal, animal/plant, art/politics, art/science, reality/fiction.
Particularly interested in the articulation between art, science and technology, as well as in their functions in the production of subjectivity, their work is currently focused on the development of performances and transdisciplinary projects, the elaboration of devices that work with bodily activity, and bio-hacking experiments.
Most of their work is done collaboratively and always free of patents and proprietary codes.
With the collaboration of: