Tattoos and nothingness, or, your body was already tattooed before you put ink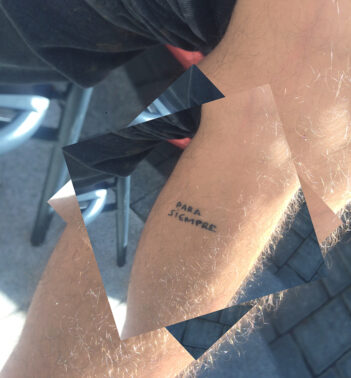 On December 13 from 16 h to 7.30 pm takes place the theoretical/practical activity Tattoos and nothing, or, your body was already tattooed before you put ink, taught by Violeta Mayoral and Lucía Egaña in Hangar's Wetlab. The meeting focuses on the existentialist nature and the political-spiritual dimensions of the practice in the significance of the tattoo, trying to answer the question about whether it is possible to empty the tattoo of meaning or signify it from less rigid dimensions marked by institutionalized knowledge, teaching tools to convey the process. The starting point is taken from some of the projects that Violeta and Lucía have developed together or separately, such as El Oráculo Colectivo, Abecedario, Homenaje a Eva, Los 100, El futuro 2, etc. to talk about how to integrate chance, chance, trust, randomness, uncertainty and disidentification in decision-making. This workshop attempts to question mechanical interpretative processes linked to a belief system which believes itself to be its own and which, through the false sensation of freedom, determines what it chooses by establishing it as a condition of stability. The random and magical here aims to be a legitimate tool with which to give meaning to that which marks the bodies.
Finally, the result can be tattooed.
Some concepts that we will see in the workshop:
– Chaos theory
– Infinite semiosis
– Body self-determination
– Ways to recover the body from medical property
– Methodologies of destabilization
– Randomness; chance and intuition
– Decision; learning and error
– Identity and the belief system
Free entrance.