Notes on Landscape, an Hangar – Kunstraum Lakeside collaboration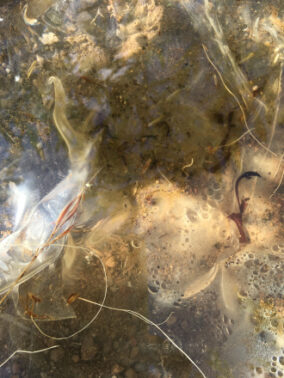 On 19 November, the Notes on Landscape exhibition opens in Kunstraum Lakeside, Klagenfurt. The exhibition, which is organised as part of a collaboration between Hangar and Kunstraum Lakeside, brings together the works of the resident artists Paula Bruna, David Ortiz Juan, Mercedes Mangrané and Francisco Navarrete Sitja.
The exhibition Notes on Landscape presents four artists who do not simply see the commonplace idea of "landscape" and the imaginary visions linked to it as a given, but as the basis for fields of action that are in constant need of redefinition. Based on an artistic process that has the potential to emancipate itself from the artwork and become an independent form, the exhibition focuses on various courses of development, phases, careers, unfoldings, and methods. In this field of tension, Paula Bruna Pérez negotiates questions of ecological sustainability in The plantocene, linking her questions to the dissolving boundaries between humans and plants, as well as between culture and nature. In Inverse Sublimation, Mercedes Mangrané Mora portrays landscape as a process of inwardness that paradoxically finds its expression in the surfaces and material qualities of her paintings. Francisco Navarrete Sitja examines political and strategic interest in certain territories in The water is as the body, the body is as the river weed, the river weed is as the journey by looking at the displacement of informal communities near Barcelona. Similarly political, but on a more abstract plane, David Ortiz Juan deals with the recollection of historical events in A landscape in which to dwell. The project investigates the role played in memory by the figure of the "phantom," and how it expresses itself in representations of the physical and mental landscape.
Kunstraum Lakeside is a place for the production and presentation of international contemporary art with the aim of provoking critical discussion about aspects of the economy relevant to society. The aim of the Kunstraum Lakeside is to convey and confront divergent perspectives on shared social relations. Through its various exhibitions, public art projects, talks, discussions, film evenings, publications and cooperation with university and other institutions, the art space aims to trigger an interdisciplinary debate around the issues of the day and generate suitably comprehensive publicity. Implementing such a program does justice to the close-knit ties in spatial terms which exist between the worlds of finance, university research, and the artistic environment.