(Català) Antonio R. Montesinos presenta La Ciudad Demudada al "Proyecto Canícula"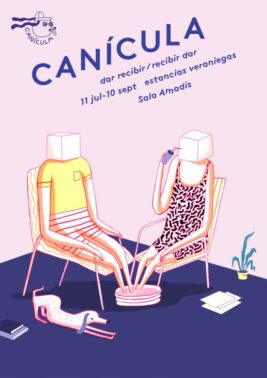 From 11th July to 18th September, Antonio R. Montesinos presents La Ciudad Demudada as part of the work in progress is developing by Cumpleaños en el bloque at Sala Amadis in Madrid, within the Proyecto Canícula.
Cumpleaños en el bloque is an iniciative of Clara Wormwood, Roser Colomar and Valeria Reyes. During their stay at Sala Amadís (from july 11th to 22th ), they proposed some series of exchanges that involved various art collectives as LaLiminal, La Dula, Paisaje Transversal and La Ciudad Demudada.
Proyecto Canícula is coordinated by the collective Pista 34 in collaboration with Instituto de la Juventud (INJUVE). Its purpose is to investigate work processes and their relationship with the environment under the "Offering-giving / Giving-offering" slogan. To analyze the co-responsibility in order to generate publics and audiences and reflecting that in the work with communities or projects with social return.
More info:
http://cumpleanosenelbloque.com/canicula-y-dias-perros