Carien Vugts will open her studio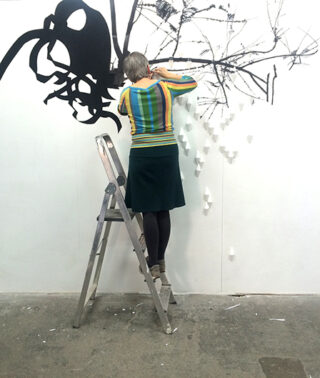 On January 27th at 7.00 pm Carien Vugts will open her studio to present the work she made during her 3 months residency at Hangar.
"How can you depict the aspects of the Catalan Modernism Architecture of Barcelona into wall sculptures? The facades of the buildings are not flat but covered with a skin of shapes, colours, structures and materials. On top of this, the balcony's of wrought iron, emerging window frames or little pinnacles, are attached to the walls. As a whole it is very bold en whimsical. It consists of several layers and sometimes, by the touch of light or shadow, it almost looks like a surrealistic spectacle". This interlocking of different materials and architectural details, Carien Vugts interpreted and incorporated into two new wall sculptures. Bigger then she used to make them because the size of the city of Barcelona got into her work.