Dark Theremin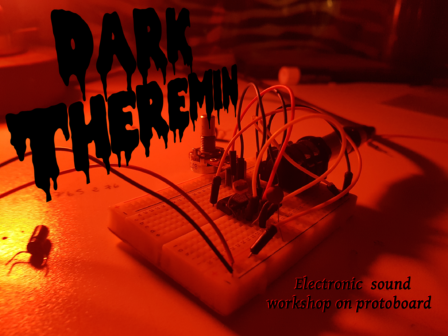 Gaia Leandra and Noish present Dark Theremin, an introductory workshop on how to create a prototype synthesizer using a protoboard.
The workshop will share knowledge on how to build a square wave oscillator controlled by light, a circuit that generates a sound that depends on the interaction of the body with the variation of light intensity. It will be focused to be done on protoboard with the solder-less technique, that is, without soldering.
Program
– Presentation of a theremin and how to transform it into a Dark theremin, interaction with the body to characterize the light.
– Explanation of the components present in the kit, basic notions of electronics and reading of schematics.
– construction on the breadboard
– musical experimentation
Practical information
Date: May 29th
Time: 4 pm
Place: Hangar's wetlab
Price: 40 € (includes material)
Capacity: maximum 10 pax
Registration: to register, please send an email to ceneriera@gmail.com.
Gaia Leandra and Noish form Nex & Noish, an amorphous collective of electronic geeks, which spreads circuit bending, noises, electronic distortion with hacker attitude, through workshops, fanzines, gigs and noise party.