(Català) El pos(t)porno era això?: Imatges, experiència i mitologia pos(t)pornogràfica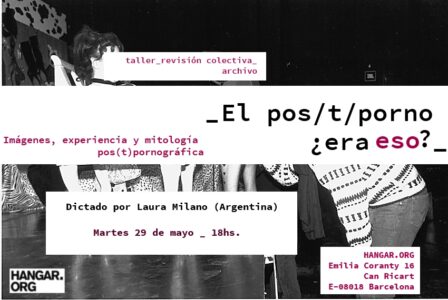 Fourth issue of the cycle "Sureando el cuerpo": The pos(t)porno was that it? Images, experience and pos(t)pornographic mythology. Workshop by Laura Milano organized by the artist in residence Lucía Egaña.
What we call pos(t)porn is much more than just unconventional explicit sex images. Much more than an activist gesture from sexual dissent. Much more than just a set of performances launched into public space, here and there, in order to make non-regulatory desires and practices visible. Much more, because it's a myth.
A mythological construction of pos(t)porno involves disruptive images, imagined bodies, counter-sexual practices, rituals on which we print a meaning, or exploration into new meanings. It was created from milestones, stories, narratives that went from mouth to mouth and from continent to continent. The post-porn myth is everything that we have believed in, named, experienced, desired; but also that which has failed, that has hurt us, that has stopped turning us on, that has died and only remains alive in our beliefs.
How much of that pos(t)porn myth has become about us? How we can make a critical reading of the pos(t)porn in relation to its forgetfulness? How to deal for the nuances, appropriations, sensibilities, frustrations, loving visualities and not-so-sensual/sexual experiences of our dissent?
This workshop proposes a critical approach to pos(t)pornography. To that myth that we put the body to from art, academia, activism, the party, the street. Undo the discourses already made to ask ourselves what the pos(t)porn thing was about, and – especially – for what it wasn't.
Attendees:
Activists, posporners, curious people and people from all over the world.
Duration: 3 ½ hs.
Materials:
– paper, pens, scissors and glue.
– comfortable clothing
Registration Fee: pay as you can
Capacity: 30 bodies
By: Laura Milano
Enquiries and registration: lauramilano3005(at)gmail.com