Contact Printer 16mm workshop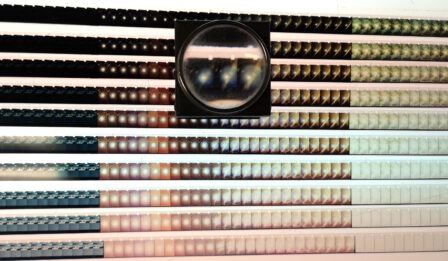 On the 30th and 31st of October, the collective in residence Crater-lab runs the workshop Contact Printer at Hangar.
In this creative and experimental 16 mm copying workshop, the group will provide the necessary tools to use the Contact Printer, which allows making identical duplicates both from positive to negative and vice versa, offering multiple creative possibilities through the combination of light, color (RGB) and speed: alteration and modification of an original quickly and effectively, experimentation with different emulsions to multiply the textures, use of masks, overlapping of development processes and others that allow the creation of improbable images.
The workshop will revolve around the following ideas:
– Comparison: photo enlarger/still image vs. contact copier/moving image
– Different emulsions: camera film vs. lab film
– The "color print film" —color copy film— designed for specific laboratory use
– Working with safety light in the darkroom, as well as different possibilities of developing processes
– Color developing processes: ECN (Eastman Color Negative), ECP (Eastman Color Positive), E6. Cross and solarized…
– Creative possibilities of photochemical copying.
– DYS contact copiers: camera, projector, viewer, synchronizer, light table…
Practical information
Date: October 30 & 31, 2021
Time: From 10 a.m. to 2 p.m. and from 4 p.m. to 8 p.m.
Location: Hangar. C/Emília Coranty, 16
Price: 80 € (includes all materials and an extra day in the laboratory)
Participants: limited to 8 people
Registration: email info@crater-lab.org with a brief description of your experience in analog media and your motivation for the workshop.
Requirements: Aimed at artists, filmmakers, students and anyone that already has some experience with analog mediums and is interested in the creation of moving images, film materiality and the artisanal processes of film creation and experimentation.