Hangar Obert 2020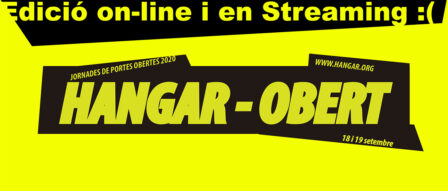 On September 18th and 19th Hangar Obert will be held, two days in which the centre will open its doors to the public offering a programme with visits, performances and live concerts. On Friday afternoon and throughout Saturday, Hangar Obert will be accompanied by the artists, resident groups and projects collaborating with Hangar, who will open up their work spaces, allowing visitors to establish a close dialogue and get to know their surroundings and their work first-hand. The programme also includes a selection of performances by resident artists, former residents and collaborators, as well as live concerts by guest artists.
Due to the security measures given by the Covid situation, all programming is in virtual format.
Follow the live stream at:
https://live.hangar.org/#top2020 – high quality
https://www.youtube.com/watch?v=mmMFtQChC5U – variable quality
Studio visits: http://hangar.org/en/residents/activitats-dels-residents/studio-visits-hangar-obert/
Resident artists
Daniel Moreno Roldán / Agustín Ortiz Herrera / Anna Irina Russell / Julia Varela / Rosa Llop / Aldo Urbano / Eulàlia Garcia Valls / Pedro Torres / Juan David Galindo / Julia Calvo / to kosie / Anaisa Franco / Francisca Trobok / Phillip Maisel / Yunju Park / K I M + I L L I
Resident curator
Mario Ciaramitaro
Collectives in residence 
Toplap / TMTMTM / CraterLab / Matics / Quimera Rosa / Gaia Leandra
Collavorative projects
PROGRAMME
Friday 18th

on-line | Video program of the works of the artists currently in residence / on our website.
Saturday 19th
16 a 21 h | Hangar team DJ + Doza DJ
21:30 a 24:30 h | Performance programme Sala Ricson*:
21:30 h | Artificialia is coming! Agustín Ortiz Herrera in collaboration with Daniel Moreno Roldán
22:40 h | Terrapolis Giulia Deval /
23:20 h | ¿Existe la montaña? Carlos Aparicio and Natalia Domínguez
24:00 h | Blue While Black Pedro Torres in collaboration with Laura Llaneli / Guillem Jiménez / Anna Irina Russell
24:35  a 3:35 h | Sound programme Sala Ricson*:
24:35 h | Ulldeter Live
1.35 h | La Sofy
2:35 h | Kentaro Terajima