Oracles's Night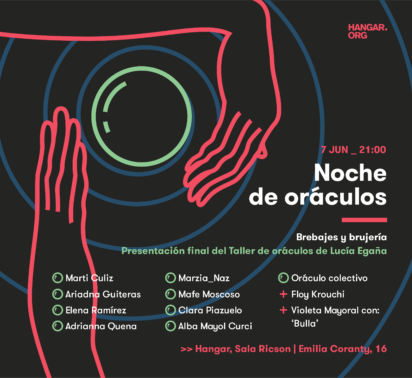 On Thursday, June 7, from 9:00 a.m. to 12:00 p.m., the Sala Ricson of Hangar hosts the Oracles's Night, a final presentation of the Oracles Workshop given by Lucía Egaña.
The development of the oracle itself allows to rethink the use of images that are usually archetypal or classical, presenting new imaginaries related to political, social, aesthetic or investigative facts. In the presentation, the different tools developed by the assistants will be announced and the public will be even able to consult some of them.
Pythonesses:
– Marti Culiz
– Ariadna Guiteras
– Elena Ramírez
– Adrianna Quena
– Marzia_Naz
– Mafe Moscoso
– Clara Piazuelo
– Alba Mayol Curci
+ Collective Oracle produced in the workshop
+ Violeta Mayoral with 'Bulla'
+ Possible surprise: Floy Krouchi
Free entrance.