Paratext #24 with Serafín Álvarez, Dirk Paesmans and Agustín Ortiz Herrera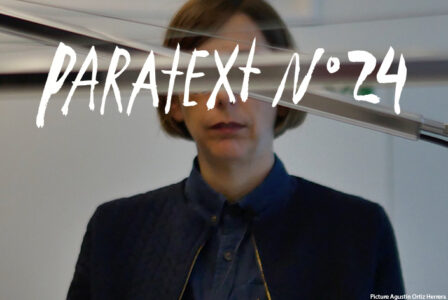 Paratext hides a monthly program of presentations by artists in residency in Hangar, always on Wednesday from 7 pm to 9.30 pm. Several artists present in various formats specific projects or parts of their works. The meetings are always opened based to the public in order to enable interaction with the artists themselves.
Next session will take place on Wednesday, March 21st at 7 pm in Hangar at Ricson space.
The following artists will present their work:
Serafín Álvarez is an artist and researcher. He was born in León (Spain) in 1985. He now lives and works in Barcelona. His work focuses on popular media depictions of subjective experiences mediated by technological and scientific developments, specially changes in the perception of reality. His most recent projects develop heterogeneous approaches to various aspects of science fiction, specially how concepts associated with otherness and the journey into the unknown are represented in contemporary audiovisual media such as cinema and video games, through work methodologies that reproduce certain creative practices commonly used by fan audiences of the genre.
The artistic practice of Agustín Ortiz Herrera investigates the place of confluence between the moving image and the performance. His work explores the semantic possibilities of non-linear video installations and uses that means to deal critically with issues such as intersecretionality, implicit violence in power relations, contradictions of economic organization systems and the paradoxes posed by representation of memory. Its strategies include the challenge of the hierarchies and the automatic positions established between viewers and audiovisuals, as well as the subversion of expectations through the agitation of the interfaces and the provocation of an active role in the viewer.
Dirk Paesmans is a member of the JODI collective with Joan Heemskerk. Their background is in photography and video art; since the mid-1990s they started to create original artworks for the World Wide Web. A few years later, they also turned to software art and artistic computer game modification. In 1999 they began the practice of modifying old video games such as Wolfenstein 3 to create art mods like SOD.Their efforts were celebrated in the 1999 Webby Awards where they took top prize in the category of "net art". Jodi used their 5-word acceptance speech (a Webby Award tradition) to criticize the event with the words "Ugly commercial sons of bitches." Further video game modifications soon followed for Quake, Jet Set Willy, and the latest, Max Payne 2 (2006) to create a new set of art games. Jodi organized exhibitions (Webcrash) and participated in international group shows with performances and installations. The Net.art that Jodi creates is opposed to post-internet art, Net.artists develop their work in the context of Online media and make it available on the internet without institutional constraints. Recently JODI published performative Apps(ZYX) and exhibition projects in collaboration with other artists.