PARATEXT nº25 with Albert Merino, Isabelle Dehay, Ana García-Pineda, Josian Llorente Sesma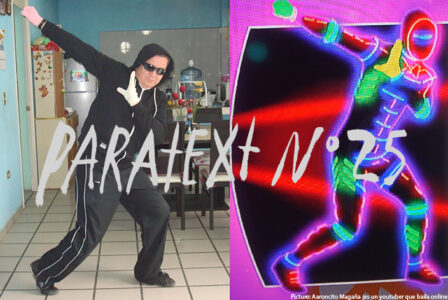 Paratext hides a monthly program of presentations by artists in residency in Hangar, always on Wednesday from 7 pm to 9.30 pm. Several artists present in various formats specific projects or parts of their works. The meetings are always opened based to the public in order to enable interaction with the artists themselves.
Next session will take place on Wednesday, April 25th at 7 pm in Hangar at Ricson space.
The following artists will present their work:
Graduate in Fine Arts from the University of Barcelona and the Kunsthochschule Berlin Weißensee, he develops his work in the field of video art. Through a hybrid language where he uses different graphic elements and animations, he creates an ample imaginary with which he intervenes and transforms the everyday, often overshadowing the absurdity and irony. Using a modified image, built afterwards, he explores the boundaries between the simulation and the veracity of the images, experimenting with contemporary techniques of image manipulation.
He is currently working on the topic of collapses applied to the political and economic fields. Starting from the concept of the aestheticization of economic speeches in a dialectic of overcoming, he proposes a reflection on how often the symbol precedes the prosperity that it aspires to represent. The representation is transformed into a drill. The symbol anticipates its function, and witnesses a failure. Recognizing peripheral territories and meeting areas between different models of society, he studies how these spaces are used as the stage of a show through the construction of architectural symbols on the void.
Exploring different themes, halfway between the dramatic and non-narrative frontier, he has produced several pieces of video art. He has also made video installations and different collaborations with musicians, such as composers Januibe Tejeira, and Victor Ibarra, or theater companies such as the Fura dels Baus.
Graduate of the ESABANM – the School of Fine Arts Nantes, Isabelle Dehay proposes connections and links between cinema and the digital arts. She has realized several short films in 16 mm, video as well as multimedia installations and performances in collaboration with contemporary musicians and composers.
Every landscape is a testament to its past, it eternally continues to confirm and reflect the tangible identity of the observer. A mirror of humanity, the environment spells out and becomes a quasi partition, which during the days is played out, while it continues in its act of composition.
With an analogical reading and through a measured selection, which operates by interpretation, appropriation and memorization, the landscape becomes poetic, it transformations into a mental image.
Fragmented, sorted, purified, always immersive, Isabelle Dehay's video installations incite a mental landscape of experience. They situate us in front of an entropy revealed by a cinematographic temporality, before emotions that emerge from a sensitive relation to the world.
Ana Garcia-Pineda's practice is based on story-telling and cosmogony building, which she develops through installation works, articulating large scale drawings, sound, sculpture, and video. She thus collects real stories and connects different facts in order to make narrations that give another perspective to how things work. She invents poetic solutions, such as Machine to make Alzheimer's only affect our sad memories or Machine that allows suicide victims to give away the years they were supposed to live. She also gives absurd advice: If you break promises, buy glue; If everything is shit don't walk without shoes; Don't lose hope or it will end up surrounded by unpaired socks.
Garcia-Pineda holds degrees from the Fine Arts University of Barcelona and Universität der Künste Berlin. Awarded he Best Catalan Artist (2015) and being the recipient of the 1st Price Injuve (2009), she has exhibited her work in Argentina, Austria, Brazil, Finland, France, Germany, Italy, Paraguay, Spain and the US.
For more than 2 decades Josian Llorente Sesma has been involved both personally and professionally in the promotion and development of projects related to the concept of "Laboratory" of art and technology as hacklabs, medialabs and citizen laboratories in cultural and educational fields. As a doctoral student, he focuses on the study of their research methodologies and organisational structures, and their relationship with innovation, the transfer of knowledge and the creation of economics.