Performance and conversation with Franco "Bifo" Berardi and Sol Prado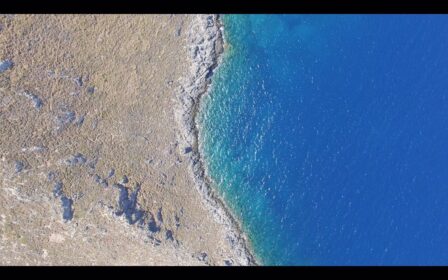 Two performative projects forged and crossed by a terrible observation -the new permanent and global war, unleashed against the migrant population- and an uncomfortable and urgent question: Is it possible to stop the spiral of fascism and massive distraction that this new war detonates from one corner of the globe to the other?
Could it be that shame, which invades those who dare to look at their own helplessness head-on, a call to transform it into common action?
An urgent call to review and transform our powerlessness into possible modes of mobilization and action.
On the 5th of March at 19h Bifo and Sol will meet with the public to open these conversations, questions and concerns that arise from friendship and mutual collaboration.
Program:
Performance "Endless Waiting Game" by Sol Prado.
Discussion about "Shame on you" by Franco "Bifo" Berardi.
Open discussion with the public.
–
Franco "Bifo" Berardi. Writer, philosopher and activist born in Bologna, 1949. He is an important figure in the Italian autonomist movement. Graduated in Aesthetics from the University of Bologna, he took part in the events of May 1968 in that city. He was the founder of the historic magazine A/traverso, fanzine of the creative movement in which he participated between 1975 and 1981, and promoter of the legendary Radio Alice, the first Italian pirate radio station. He lived in Paris, where he met Felix Guattari, and in New York. In 2002 he founded TV Orfeo, the first Italian community television station. He is currently a professor of Media Social History at the Brera Academy in Milan. As an author, he wrote numerous essays and papers on the transformations of labor and the processes of communication in postindustial capitalism. His texts were published in different languages. Some of his titles are: Mutazione e Cyberpunk, Cibernauti, La Factory of Unhappiness, Post-Alpha Generation, Felix, and The Uprising.
Sol Prado is an artist, independent researcher and performer, born in 1985, in Carapachay, a small suburb of Buenos Aires, Argentina. She currently lives in Barcelona.
She graduated with a degree in Textile Design at University of Buenos Aires, obtained her Master at the Independent Program Studies in Barcelona (MACBA), directed by Paul B. Preciado and
participated in Capacete Residency – Documenta 14 'Art and Politics' program, developed in Athens during 2017.
She showed her artwork in forms of installations, videos, conversations and workshops in: Circuits & Currents, Greece; Lugar a Dudas, Colombia; EAC, Uruguay; Palais de Glace, Argentina; ADN Platform, Barcelona; amongst others. She actively collaborates with the International Errorist Network and the Poor Tank collective, together with Franco Castignani.