Polyvalents XIII: Poli Loli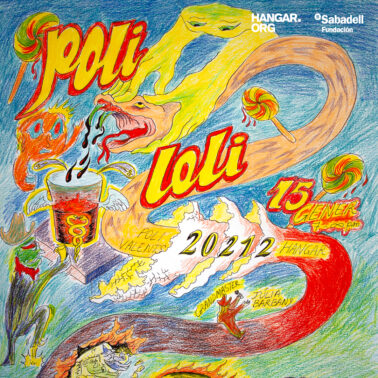 NO MORE SEATS AVAILABLE  

On the 15th of January at 5 p.m. Poli Loli arrives at Hangar. The celebration is part of the 13th edition of the Polyvalent Sessions, a set of annual one-day activities that are organized by the artists in residence.
Welcome to a night of healing and letting go, a celebration of your own tentacular identities, speaking to your body much more than to your neural understanding.
During this apotropaic event, our Grand Master of Celebrations [Júlia Barbany] will guide you to discover all the shades of artists as light enchanters [Jenny Abouav – Mū], performing bodies of abstract exploration of space [Julia Calvo + Iby & Anna Sagrera 'Utopia'], a disruptive karaoke of alterities [Radio Cava-ret], audio-visual healing ritual of frequencies and bodies [Satin de Compostela + Juniper], a cathartic Hyperpop karaoke [to kosie & Camille Orny], all sprinkled with icing by the visual lights of Random Randy.
Poli Loli is organized by a group of residents in Hangar [in random order:Jenny Abouav, Julia Calvo, Arnau Sala, Daniel Moreno Roldan, to kosie, Aldo Urbano, Mario Ciaramitaro, Juan David Galindo] as a long deviant evening where everybody is welcome to join to get back together into a beating community. Please bring your own souls and bodies ready for the feast and the trip.
Line-up
17 h – Introduction by Grand Master – Júlia Barbany
17:15 h – Jenny Abouav "Mū"
17:40 h – Julia Calvo + Iby & Anna Sagrera 'Utopia'
18:05 h – Radio Cava-ret
18:50 h – Satin de Compostela + Juniper 'Screaming in a similar key'
19:30 h – Hyperpop Karaoke with to kosie & Camille Orny
20:30 h – Karaoke afterparty
feat. Random Randy vj
Attendance is free of charge. Limited capacity. NO MORE SEATS AVAILABLE.
The reserved seats will lose their validity if the people who have made the reservation do not show up during the first hour of the event, i.e. between 5 p.m. and 6 p.m. In this way, access will be facilitated to those who are present on site.
The event will be held in accordance with all established safety and hygiene measures such as the mandatory use of face mask, 70% capacity, safety distance of 1.5 meters.
With the support of:

Image design by Aldo Urbano