"Rayos y centellas" workshop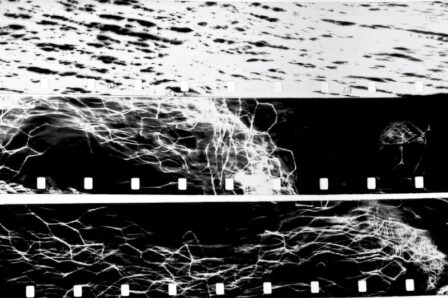 On October 18th, Hamaca presents the Rayos y centallas workshop in Hangar. Starting from the relation light/shadow, originated in the cinema, this workshop explores the paths for the creation of moving images produced by the direct incidence of light on the emulsion, crossing the silhouettes of an object.
Taking as reference Man Ray's rayographs film experiments at the beginning of the 20th century (in addition to some photographic experiments at the end of the 19th century), we will explore the understanding of a series of techniques also used by contemporary filmmakers who work with direct light on celluloid by exposing objects and making prints by contact. An initiatory journey that will focus on creative practice, where each participant will be able to work on his or her own 16mm micro piece (exposing, developing and projecting).
A workshop of filmic experimentation in 16mm, without the use of cameras, drawing with light directly on the celluloid, understanding the action and effects on the silver halides, as well as the alchemy of the process of negative B&W development.
Practical information
Dates: October 18th
Time: from 11 am to 2 pm and from 3 pm to 10 pm
Venue: Sala Ricson, Hangar. c/Emília Coranty, 16
Fee: €40
Registration here