Paratext featuring Encura #1_The Conversation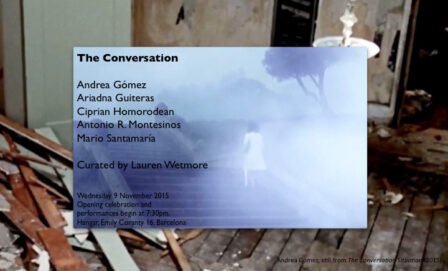 Project curated by Lauren Wetmore.
The Conversation, Lauren Wetmore's curatorial proposal for Encura, takes its name from Francis Ford Coppola's movie about a paranoid security expert. Starting from a reflection on the nature and effects of the control devices, Lauren Wetmore invites artists-in-residence at Hangar to replicate and disturbing the dynamics that control public and private surveillance forms. Through the work of Andrea Gómez (Colombia), Ariadna Gutieras (Spain), Ciprian Homorodean (Romania), Antonio R. Montesinos (Spain) and Mario Santamaría (Spain), The Conversation attempts to reveal and subvert these control mechanisms, evident as in the case of surveillance cameras or more veiled as in architecture or social behavior.
Andrea Gómez will present a new audio-visual event responding directly to David Shire's score for The Conversation, using collaged video and live improvised soundtrack. Ariadna Guiteras continues her exploration of the gestural manifestations of control with a performance that recreates and abstracts movements accumulated from online beauty tutorials. Ciprian Homorodean will intervene into the architecture of Hangar, creating a series of window treatments responding to the ubiquitous bricked-up windows of abandoned building in Spain's climate of economic crisis. Antonio R. Montesinos' large-scale installation will elegantly make physical the position and blind-spots of security cameras and Mario Santamaría will present "03:23" a 24 hour film that uses public-access webcams from time zones across the globe.
"The Conversation starts from 13h30 on Wednesday 9 December until 13h30 the next day. The largest concentration of activity will take place at 20pm on Wednesday."
Lauren Wetmore, Associate Curator of Frieze Projects, is the first Encura curator-in-residence: the international scholarship organized by Hangar and Curator's Network.
Date: Wednesday 9th of December 2015
Opening Hours: Installations, performances and special events at 8 p.m.
Place: Hangar
Where we can find a monitoring project in sound format: