Trobada 3/4 by Toplap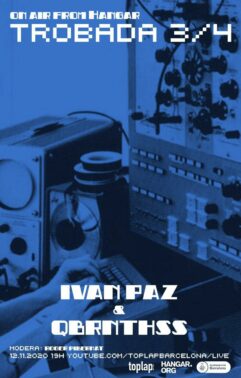 On November 12th, at 6:30 pm, the collective in residence Toplap presents Trobada 3/4, an activity in the form of a closed-door performance that will provide a space to get to know the work of the Toplap Barcelona live-coders community. Live coding is an artistic practice that revolves around writing source code in real time, so that the writing of the program is also part of the program!
The Trobada 3/4 will include the participation of:
With backgrounds in physics, music and computer science, Iván's work is framed in critical approaches to technology centered around from-scratch construction as an exploratory technique. Since 2010, he has been part of the live coding community and has presented workshops, conferences and concerts around America and Europe.
QBRNTHSS (pronounced "quebrantahuesos", bearded vulture in spanish) is the alias that Ramon Casamajó (50% of the Turing Tarpit duo) uses for his solo works, more focused on electronics and live coding. With Turing Tarpit he has released several works and regularly played in the experimental underground circuit of Barcelona. As QBRNTHSS has released a CD split shared with artist Room-A, and he is usually playing at algoraves organized by the collective Toplap Barcelona, in which he's actively involved. He also has played in other online events hosted by Toplap international community. For this event he has prepared a piece named A.C.F.O.S. (A Code From Outer Space), a homage to musician, DJ, composer, producer and remixer Andrew Weatherhall, who died recently, emulating the sound and vibes of his project A.L.F.O.S. (A Love From Outer Space), in which together with Sean Johnston they play long and hypnotic sessions that last to 6 hours, where they mix tracks of techno, house, dub and other styles with the condition of not exceeding 122 bpms.
https://soundcloud.com/qbrnthss
Practical information
Date: November 12th
Time: 6:30 pm
Space: Sala Ricson, Hangar. 16 Emília Coranty St.
Free entrance with limited capacity in order of arrival (40 pax)