Sofia Montenegro
Long-term residency
May 2023 - April 2025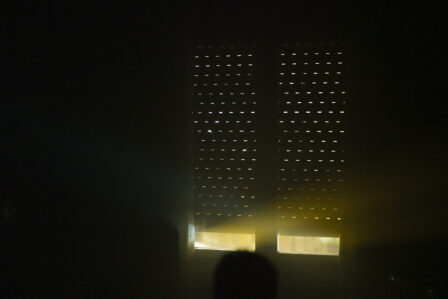 Sofia Montenegro. Madrid, 1988
Sofia Montenegro develops her work between sound, image, text, mediation and performance. She studied Fine Arts and Cultural Studies between Utrecht and Madrid and holds an MA in Art Practice from the Dutch Art Institute. Her artistic practice incorporates various methodologies that combine the visual with sound and action in space, seeking ways to produce images in the mind. Her works often take the form of installations, sound journeys, listening sessions, collective encounters or performances.
She has presented her work in exhibitions, actions and performances at Can Felipa Arts Visuals (Barcelona), Bulegoa (Bilbao), MNCARS, LCE, El Chico (Madrid), Kunstraum Bethanien (Berlin), Hangar (Barcelona), Hablar en Arte (Madrid), La Escocesa (Barcelona), Bosque R.E.A.L., Getxoarte (Bilbao), Getxoarte (Bilbao), Ekkisens Art Space (Reykjavik), Laboral Centro de Arte (Gijón), Sala de Arte Joven (Madrid), W139 (Amsterdam), What Remains Gallery (Munich), Ron Mandos Galerie (Amsterdam), Kunstpodium T (Tilburg) and Teatro Pradillo, among others.
Recently she has been a resident at Futurama Alentejo, BilbaoArte, CRA Matadero Madrid and Artistas En Residencia in 2020, a programme of MACBA, CA2M and LCE. She has also participated in projects and residencies at Caixa Forum Barcelona, Addaya Centre d'Art Contemporani (Mallorca), Lugar a Dudas (Cali), Tbilisi Triennial and Kunstverein München.
She was awarded a prize at Generacion 2022 and has received creative grants from Comunidad de Madrid, Generalitat de Catalunya, INJUVE. She won the Jan Zumbrink Prize and the Piet Bakker Prize in the Netherlands. In 2010 he co-founded the MilesKm project, a platform for exploring possible alternative structures within art.