Results of espais c. Residence in a public primary school 2023-24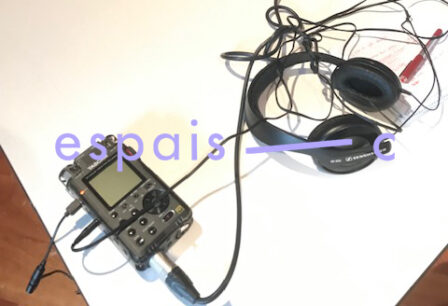 The jury, made up of Anna Manubens (Hangar director) and Carolina Jiménez (Hangar for Research and Knowledge Transfer), has decided to award the espais c residency to Ricardo Cárdenas for his project Isla-Archipiélago-Continente. Unas pocas muchas voces.
The proposal includes the creation of a sound space-laboratory to be shared with the students, based on a flexible concept of community radio. The proposed methodology is articulated through different sound formats such as podcasting, audiobooks, radio soap operas or the activation of sound libraries of the space and its inhabitants, understood here as pretexts to initiate a creative device of encounter that gives space to the development of strategies and interests formulated with the students, outside individual structures of artistic expression, seeking horizontality in the sharing of knowledge and prioritising the value of subjective experience as a framework for action.
We would like to thank all the participants of the call and wish Ricardo Cárdenas all the best for his stay at the Institut Ramon Llull during the academic year 2023-24.
In Barcelona, on 31 July 2024