Sarah Rinderer
Exchange grant between Bregenz and Barcelona
June - July 2021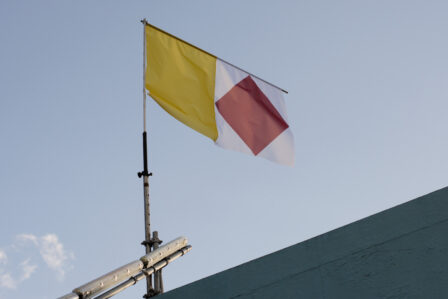 Sarah Rinderer. Bregenz, 1994
Sarah Rinderer studied Fine Arts – Experimental Art and Cultural Studies/Art Theory at the University of Arts and Industrial Design Linz (Austria) and at the Iceland Academy of the Arts Reykjavík (Iceland).
The main focus of her visual art and literature, concept-based works and prose texts, artists' publications and poetry is dealing with language itself, with its blanks and in-between-spaces. Her often research-based works examine, reconstruct, transform and translate language systems as well as means of contemporary communication, thus creating new poetic meanings and definitions.
At Hangar she will continue her artistic research on the poetic, political and performative quality of the universal language system of maritime communication. The International Code of Signals – For the Use of All Nations has been used in shipping since the late 19th century for visual, sound and radio communications over long distances, especially when language difficulties arise. The alphabetical codes of Flag, Morse, Semaphore and Distant Signalling can be used to spell out messages, as well as to form simple and arbitrary signs, which represent words and sentences of the same signification in all languages.
Her works have been shown in various exhibitions and her texts have been published in diverse literary journales and anthologies. She was awarded, among others, the Vorarlberg Literature Prize 2017, the Emanuel and Sofie Fohn Scholarship for Fine Arts 2018, the Art Promotion Scholarship for Literature and Cultural Journalism of the City of Linz 2019 and the Bank Austria Studios Grant 2021.