Saskia Fischer
Exchange grant Baden Württemberg – Catalunya
September - October 2022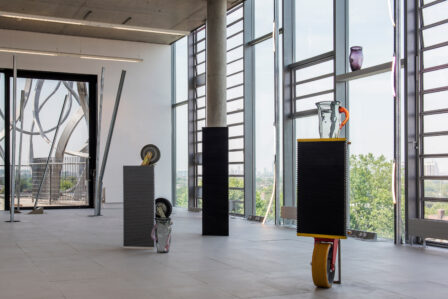 Saskia Fischer. Stuttgart, 1986
Saskia is an interdisciplinary artist working with images, objects, texts, and environments. Her research is concerned with the paradigms that form and inform landscape as a reflection of cultural and social values.
She examines the ways Western understanding separates anthropological urbanity from a colonial concept of nature, reinforcing problematic notions of femininity and what is 'natural'. Her working motifs draw on transitory architectures and the fabricated barrier between nature and the commons. This interdisciplinary research is expressed through photographs and installations synthesizing diverse media blending materials and motives from architecture, mobility, urban planning, landscape design, horticulture, gender studies and art history.
Saskia studied postgraduate fine art at Goldsmiths College in London (2018), photography at Folkwang University in Essen (2015), sculpture/installation at EKA Tallinn (2014), and economics at HfWU Nürtingen (2009). She took part in the LCCA Rigas' Summer School on Post-Socialist Ecologies in Valmiera, Latvia (2022). Saskia has been awarded stipends and residencies by Cité International des Arts Paris, Ministry of Science, Research and the Arts Baden-Württemberg, Marianne Ingenwerth Foundation, Arts Council England and Fundaziun Nairs in Scuol, Switzerland.
Her most recent exhibitions and publication include: The City is a Forest, essay, Desired Landscapes no 5, edited by Natassa Pappa, Athens, Greece (2022); Koŝice Seed Library, curated by Borbála Soós, Šopa Gallery, Koŝice, Slovakia (2022); Bangkok Biennial, stricte intimité, curated by Lee Anantawat, Tristan Deschamps, and Sathit Sattarasart, Bangkok, Thailand (2022); Werkstattpalast, conceived by Ato, Rhein Harbour Karlsruhe, Germany (2022); A Garden for Autarkia, initiated in collaboration with Lukas Strolia, Autarkia, Vilnius, Lithuania (2021); Violets (Retour de Paris), commission for a public artwork, Institut français and Current Festival, Berliner Platz, Stuttgart (2021).